SOLAR ACTIVITY ALERT: "There is a spectacular prominence on the sun today," reports Mike Borman of Evansville, Indiana. "It looks like a gigantic hook." Readers, if you have a solar telescope, take a look.
more images: from Cai-Uso Wohler of Bispingen, Germany; from James Kevin Ty of Manila, the Philippines
VOLCANIC SUNSETS: Sky watchers across the USA and Europe are reporting unusually colorful sunsets and sunrises. The cause appears to be the August 7th eruption of the Kasatochi volcano in Alaska. The volcano hurled a massive cloud of ash and sulfur dioxide into the stratosphere; high winds have since carried the aerosols over parts of the USA and Europe.
"I was taking photos of sunflowers on Aug. 26th when this amazing sunset materialized," says Darin Brunin of Lawrence, Kansas. "It had colors brighter than the yellow petals of the sunflower itself. Now I know this unique sunset was caused by the volcano."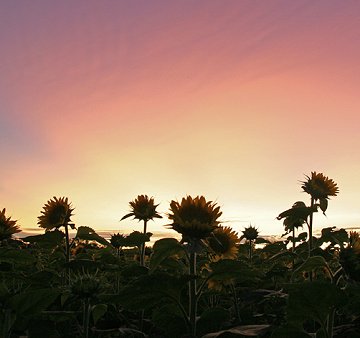 Violet domes, dramatic pink and magenta rays crossing the sky, red aureoles around Venus--these are just a few of the things people are seeing. When the sun goes down tonight, look west. You may be in for a treat.
more images: from Jerry Chab of Falls City, Nebraska; from Doug Zubenel of Kansas; from Marco Langbroek of Leiden, the Netherlands; from Vladislav Cech of Brno, Czech Republic; from Monika Landy-Gyebnar of Paloznak, Hungary; from Eric Schandall of Oslo, Norway; from Jeff Boyne of West Salem, Wisconsin; from Dick McGowan of Tonganoxie and Olathe, Kansas; from Fred Chabala from Washington, Pennsylvania; from Radek Grochowski near Świdnica, Poland; from Victor van Wulfen of MVC Berlicum, the Netherlands; from Mark D. Marquette of Boones Creek, Tennessee; from Mark Wloch of Erie, Michigan;
OLD TRACKS: Mars rover Opportunity is leaving Victoria Crater, and it's exiting the way it came in. Put on your 3D glasses and behold the new tracks beside the old: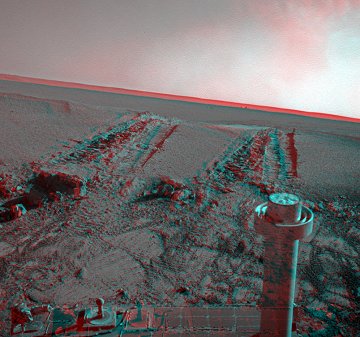 Graphic artist Patrick Vantuyne created the anaglyph by combining left- and right-eye images from Opportunity's navigation camera.
"Making stereo images of Mars has become almost routine for me, but it's still a thrill to see something new in 3D, which is hardly visible in a single picture," says Vantuyne. As an example, he notes the clouds in the upper-right corner of the anaglyph. Gaze for a while into the sky and watch the fluff emerge: full-size image.
---
August 2008 Aurora Gallery
[Science@NASA: Plasma Bullets Spark Northern Lights]