He already has a neck tie. This year give Dad something truly heavenly for Father's Day: SpaceWeather PHONE.

STORM WARNINGS: Astronauts can breathe a little easier. A scientist using the Solar and Heliospheric Observatory (SOHO) has found a way to predict dangerous solar radiation storms. The new alert system offers as much as one hour advance warning, giving astronauts on EVA extra time to seek shelter and avoid radiation sickness. Get the full story from Science@NASA.

NIGHT FLASHES: Last night, Jens Hackmann went outside with the intention of photographing star trails over the Weikersheim Observatory in Germany. He had just pointed his camera north and opened the shutter when "this thunderstorm intervened," says Hackmann: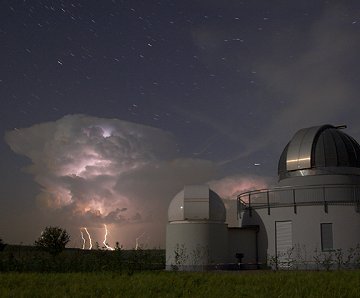 Photo details: Canon 30D, 25mm, 5 min. exposure.
What are the odds of being interrupted thus? Better than you might suppose. Lightning strikes our planet about 100 times every second or almost 9 million times a day. A long-exposure star trails photo stands a pretty good chance of catching a distant thundercloud in action, especially during summer, the season of thunder and lightning. Advice: if you see such a cloud, take the picture, then take cover.
BISHOP'S RING: Last week in Hungary, a pale ochre ring surrounded the sun, and the sun itself turned blue. "The ring was really big and spectacular," says Monika Gyebnar who sends this picture from the town of Veszprem: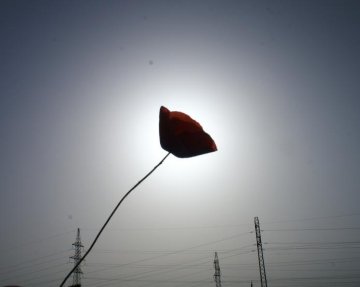 This is called a Bishop's Ring. First noted in 1883 after the eruption of Indonesian super-volcano Krakatao, Bishop's Rings are caused by micron-sized specks of airborne ash and dust, which strongly scatter blue wavelengths of sunlight. (One micron equals one-millionth of a meter.) The phenomenon is often seen after volcanic eruptions including modern blasts such as Mt. Pinatubo in 1991.
But there was no volcanic eruption last week. So what caused this Ring? Gyebnar has the answer: "A dust storm in the Sahara desert threw fine sand high in the atmosphere, and a jet stream brought that sand to Hungary. We saw a Bishop's Ring not of volcanic origin but of micron-sized sand." More images: #1, #2, #3.