He already has a neck tie. This year give Dad something truly heavenly for Father's Day: SpaceWeather PHONE.

WEEKEND PLANETS: This weekend you can tour the solar system in only a few minutes. Go outside at sunset and look west; Mercury, Venus and Saturn form a line almost perpendicular to the horizon. Look up; there's the Moon. Look behind your back; Jupiter is rising in the east. On May 23th, Peter Rosen of Stockholm, Sweden, photographed all five worlds in one observing session: Click here to take the tour.

SUDDEN PROMINENCE: This morning, Franck Charlier of Val d'Oise, France, looked through his solar telescope and found the sun "very quiet." Then, just as he was about to withdraw from the eyepiece, "a huge and very luminous prominence appeared." He attached his CCD camera to the 'scope and snapped these pictures: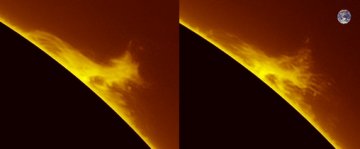 Photo details: Orion 80ED telescope, 1.6x Barlow, Coronado SolarMax40 filter.
As the inset image shows, this fast-changing prominence is many times larger than Earth. "Incredible!" says Charlier. "This was unexpected on a day when the sun seemed so blank and quiet. The sun is really magic and always worth watching."
more images: from John Stetson of South Portland, Maine.
ISLANDS ON TITAN: On May 12th, the Cassini spacecraft swooped over Saturn's moon Titan and scanned its surface by radar. One of the images captured a dark sea of liquid methane dotted with islands, bays and other features typical of terrestrial coastlines: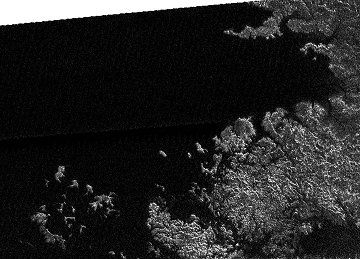 The utter darkness of this sea suggests to Cassini mission scientists that the depth of liquid exceeds tens of meters. The islands may, in fact, be the peaks of partially submerged mountains akin to Catalina Island off the coast of Southern California.
While this view resembles Earth, it is utterly unEarthly. The surface temperature of Titan is -180o C. That's why the seas are not made of water, which would freeze. Instead, Titan has methane (CH4), a liquid which is colder, lighter and less viscous than H2O. How would you design a boat for such a sea? Could a water bug skitter across its surface? Is there such a thing as a methane rainbow? Science@NASA has the answers.