He already has a neck tie. This year give Dad something truly heavenly for Father's Day: SpaceWeather PHONE.

STORM WARNINGS: Astronauts can breathe a little easier. A scientist using the Solar and Heliospheric Observatory (SOHO) has found a way to predict dangerous solar radiation storms. The new alert system offers as much as one hour advance warning, giving astronauts on EVA extra time to seek shelter and avoid radiation sickness. Get the full story from Science@NASA.

SOLAR SMOKESTACK: This morning on the Isle of Skye, Scotland, Robert Arnold pointed his Coronado Personal Solar Telescope toward the sun and witnessed some "amazing, fast moving action." He assembled eight snapshots to create a 40 minute-long movie: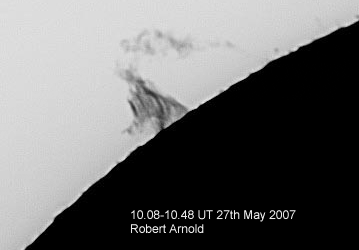 This is a prominence--a triangular cloud of hydrogen held above the sun's surface by solar magnetic fields. Prominences resemble gigantic flames; this one even seems to be puffing smoke from its tip. But the resemblance is illusory. Unlike the wick of a burning candle, where oxygen is combined with hydrocarbons to produce light and heat, no combustion is taking place inside a solar prominence. Hydrogen-filled prominences glow simply because they are hot (like a stovetop glows red when it gets very hot) and they flicker because their magnetic fields are not quite stable. These characteristics give prominences a flame-like appearance, but they are not made of fire.
Prominences do, however, have one thing in common with flames: they can wield a hypnotic power over anyone who stares at them. If you have a solar telescope, take a look!
NIGHT FLASHES: Last night, Jens Hackmann went outside with the intention of photographing star trails over the Weikersheim Observatory in Germany. He had just pointed his camera north and opened the shutter when "this thunderstorm intervened," says Hackmann: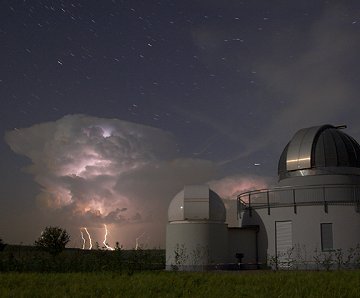 Photo details: Canon 30D, 25mm, 5 min. exposure.
What are the odds of being interrupted thus? Better than you might suppose. Lightning strikes our planet about 100 times every second or almost 9 million times a day. A long-exposure star trails photo stands a pretty good chance of catching a distant thundercloud in action, especially during summer, the season of thunder and lightning. Advice: if you see such a cloud, take the picture, then take cover.