| | | |
| --- | --- | --- |
| FLYBY ALERT! Space shuttle Discovery launches on May 31st. Get your flyby alerts from Space Weather PHONE | | |
MARS LANDING--TODAY! Of all the spacecraft sent to Mars in the 50-year history of the Space Age, about half have crashed, skipped off the atmosphere, failed to enter a proper orbit or missed the planet entirely. The good news is, the other half succeeded. Will NASA's Phoenix lander join rovers Spirit and Opportunity intact on the martian surface? We'll find out later today when mission controllers at the Jet Propulsion Laboratory guide Phoenix to its frosty landing site at Mars latitude 68o N. Confirmation of a successful touchdown could come as early as 4:53 pm PDT: updates.
HOT COMET: On May 23rd, a comet plunged toward the sun, overheated, and disintegrated. A coronagraph onboard the Solar and Heliospheric Observatory (SOHO) saw the whole thing:
The kamikaze comet was a member of the Kreutz sungrazer family. Named after a 19th century German astronomer who studied them in detail, Kreutz sungrazers are fragments from the breakup of a giant comet at least 2000 years ago. Several of these fragments pass by the sun and disintegrate every day. Most are too small to see, but occasionally a big one catches our attention.
Note: In the movie, the passage of the comet seems to trigger a coronal mass ejection (CME): diagram. This is almost certainly a coincidence. The comet was at least a million kilometers above the surface of the sun at the time and there is no known mechanism for a comet to trigger a magnetic explosion across such a gulf.
SPACE STATION FLYBYS: For North Americans, the ISS Marathon of May 2008 has ended, but it is still underway over Europe. Last night "I went down to a lake to photograph the space station and it was clearly visible in the twilit sky," says P-M Hedén of Vallentuna, Sweden. He snapped this picture using a Canon 450D: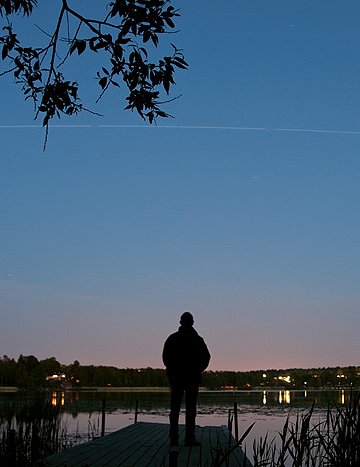 To the unaided eye, the ISS appears as a bright but dimensionless point of light. In the eyepiece of a backyard telescope, however, it reveals itself as a bustling 3D spaceship. Here is the view through a 14-inch telescope, photographed on May 23rd by Iliyan Darganov and Borislav Petrov of Varna, Bulgaria.
European flybys will continue for another week. Readers, please try our Simple Satellite Tracker to find out when to look.
---