| | | |
| --- | --- | --- |
| FLYBY ALERT! Space shuttle Discovery launches on May 31st. Get your flyby alerts from Space Weather PHONE | | |
SUNDAY MARS LANDING: Of all the spacecraft sent to Mars in the 50-year history of the Space Age, about half have crashed, skipped off the atmosphere, failed to enter a proper orbit or missed the planet entirely. The good news is, the other half succeeded. Will NASA's Phoenix lander join rovers Spirit and Opportunity intact on the martian surface? We'll find out Sunday, May 25th, when mission controllers at the Jet Propulsion Laboratory guide Phoenix to its frosty landing site at Mars latitude +68 degrees N: full story.
BLUE-SKY AURORAS: A solar wind stream hit Earth on May 20th sparking auroras so bright, they were briefly visible in the twilight blue sky above Nunavik, Quebec. Note the green wisps behind the light gray clouds: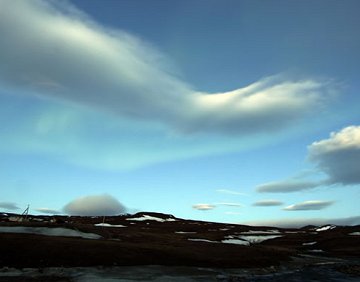 Photo details: Canon EOS 30D, 10mm lens, f5, 3 sec, ISO 200
"I took these pictures at 1 o'clock in the morning--and, yes, the sky was blue," says photographer Sylvain Serre. "At our latitude at this time of year, it is blue all night long. The sky is bright and I can see only a few stars."
In spite of the extra glare, "I saw the auroras with my unaided eyes," he says. "The clouds were bothersome, but the clouds were moving slowly while the northern lights were moving faster." This, plus the green color of the auroras, made it possible to sort things out.
Anorther solar wind stream is due to hit Earth on May 26th or 27th. Arctic sky watchers, be alert for wisps of green among the blue.
May 2008 Aurora Gallery
[Aurora Alerts] [Night-sky Cameras]
DOUBLE RAINBOW: Yesterday, when Douglas Lobel saw a rainbow towering over a church in Philadelphia, the thing that impressed him most was ... not the rainbow. It was the other rainbow. Click here to see.

Photo details: Canon 20D, ISO 100, 1/250 sec.
"This was the most amazing double rainbow I've ever seen," he says.
Believe it or not, all rainbows are double. The one we usually notice is the bright primary bow, caused by sunbeams reflected once inside falling raindrops. The other is the secondary bow, caused by sunbeams reflected twice. The secondary rainbow is fainter, often nearly invisible, but always there. So, the next time you see one rainbow, look for another, and prepare to be amazed.
more images: from Carrie Mansfield of Burlington, New Jersey; from Charlie Hoff of Rumford, Maine.