| | | |
| --- | --- | --- |
| FLYBY ALERT! Space shuttle Discovery launches on May 31st. Get your flyby alerts from Space Weather PHONE | | |
MARS LANDING: Last night, NASA's Phoenix lander successfully touched down on the surface of Mars and the lander's solar arrays have deployed. If spacecraft systems continue to check out as well as they have so far, Phoenix's robotic arm could begin digging in icy martian soil within a week, say mission scientists: full story.
MARTIAN POLYGON: When Phoenix parachuted to the surface of Mars on May 25th it landed in the middle of a great field of polygons. One of the first pictures beamed back to Earth shows a typical trapezoid about 15 feet across: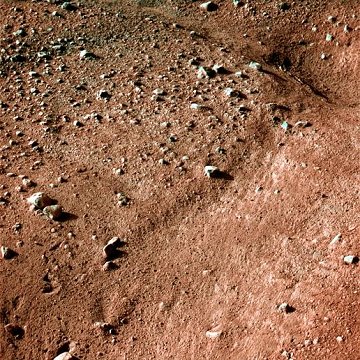 "It's the cutest polygon I've ever seen," laughed Phoenix principal investigator Peter Smith at a late-night press briefing after the touchdown. "This is just where we wanted to land."
The polygons are created by the repeated expansion and contraction of subsurface ice as seasonal martian temperatures rise and fall--or so the theory goes. Phoenix's robotic arm will soon test this idea by digging into the ground. The polygon pictured above is just out of arm's reach, but that's no problem, said Smith, because there are other polygons practically at the lander's feet. If water does exist just beneath the topsoil, it could provide a habitat for microbial life--exciting stuff indeed!
UPDATE: NASA's Mars Reconnaissance Orbiter photographed Phoenix parachuting to the martian surface: photo. This marks the first time one human-built spacecraft has photographed another landing on an alien planet.
SPACE STATION FLYBYS: For North Americans, the ISS Marathon of May 2008 has ended, but it is still underway over Europe. Last night "I went down to a lake to photograph the space station and it was clearly visible in the twilit sky," says P-M Hedén of Vallentuna, Sweden. He snapped this picture using a Canon 450D: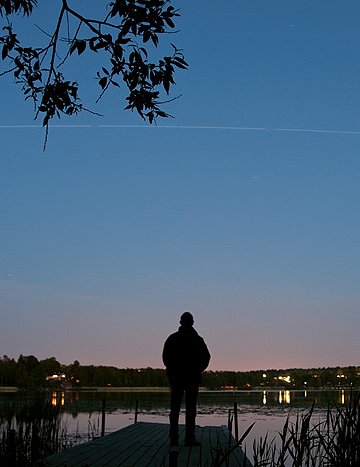 To the unaided eye, the ISS appears as a bright but dimensionless point of light. In the eyepiece of a backyard telescope, however, it reveals itself as a bustling 3D spaceship. Here is the view through a 14-inch telescope, photographed on May 23rd by Iliyan Darganov and Borislav Petrov of Varna, Bulgaria.
European flybys will continue for another week. Readers, please try our Simple Satellite Tracker to find out when to look.
---