| | | |
| --- | --- | --- |
| ANDROID FLYBYS: Our field-tested satellite tracker is now available for Android phones. Features: Global predictions and flyby alarms! Learn more. | | |
SPACEQUAKES DETECTED NEAR EARTH: Researchers using NASA's THEMIS spacecraft have discovered a form of space weather that packs the punch of an earthquake and plays a key role in sparking bright Northern Lights. Get the full story from Science@NASA.
SUNSPOT CONJUNCTION: Yesterday the International Space Station (ISS) had a close encounter--with sunspot 1089: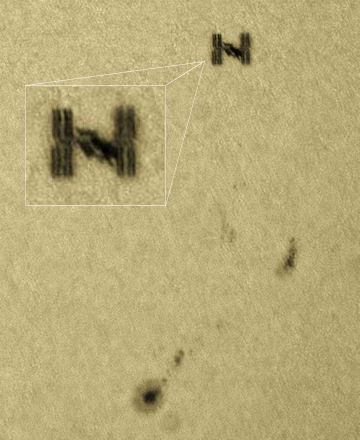 Moving at 17,000 mph, the ISS flitted across the solar disk in less than half a second. Snap! Stephen W. Ramsden of Madison, Georgia, caught the space station just as it was passing by sunspot 1089. "I used an Explore Scientific 127mm APO, a Lunt Solar Wedge, and a DMK41 digital camera," he says.
Look around the space station's silhouette. The graininess of the image there is not a defect. It's a real characteristic of the sun's surface, caused by the boiling motion of hot plasma. Researchers call it "granulation," and it is particularly obvious in contrast with the sharp outlines of the ISS. Ready for your own solar transit? Check Calsky for viewing times.
more images: from John Stetson of Falmouth, Maine
STRANGE SUNRISE: On Monday morning, July 26th, John Stetson woke up early to watch the sunrise over Casco Bay in Cape Elizabeth, Maine. He expected a pretty view. What he got was pretty strange: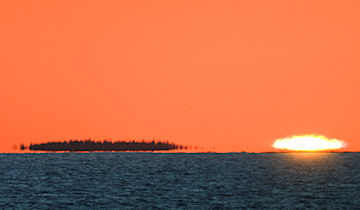 "The island appeared to be floating above the water," Stetson reports. "And the sun was as flat as a pancake!"
Atmospheric optics expert explains what happened: "Overnight the air above the ocean was abnormally cooled producing a temperature inversion, cool air below warmer. At sunrise the almost horizontal sun's rays were bent (refracted) as they passed between the different temperature layers to give us a mock mirage. The island was also miraged. The sea was not really choppy, that is the uneven edge of the mirage."
"At sunset the ocean sometimes produces a warmer air above it to give another type of mirage – an Etruscan vase," he adds. "Watch sunrise and sunset for magical effects!"
more images: from Lyle Anderson of Duluth, MN
---
Solar Eclipse Photo Gallery
[NASA: South Pacific Eclipse] [animated map]