| | | |
| --- | --- | --- |
| ANDROID FLYBYS: Our field-tested satellite tracker is now available for Android phones. Features: Global predictions and flyby alarms! Learn more. | | |
SPINNING BEHEMOTH: Although Jupiter is ten times wider than Earth, it spins more than twice as fast. One day on the giant planet lasts just 9 hours and 55 minutes. To illustrate the dizzying pace, astrophotographer Anthony Wesley of Australia made a five-hour movie of Jupiter in motion on July 23rd. Click here to make the planet spin.
OVER THE HORIZON: Something bright and active on the far side of the sun is about to turn toward Earth. Magnetic loops towering over the eastern limb herald its approach: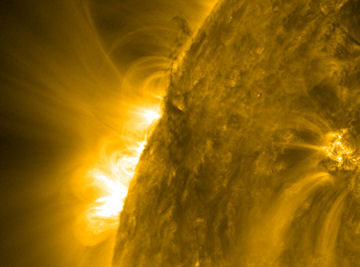 NASA's Solar Dynamics Observatory took this picture during the early hours of July 26th. The bright glow revealed by SDO's extreme ultraviolet camera comes from million-degree plasma trapped by overlying magnetic fields. A sunspot is likely at the bottom of it all.
Or maybe two sunspots... NASA's STEREO-B spacecraft is stationed over the sun's eastern limb, and it sees a pair of active regions approaching single file. The one peeking over the limb now is actually the smaller of the two. Readers with solar telescopes should train their optics here.
BREATHTAKING PLANETS: "Standing on the summit of Mount Lawu, 3265m above sea level on July 21st, I was treated to one of the most beautiful views of my life," reports Jia Hao of Java, Indonesia. "With reknowed Mount Merapi and Mount Merbabu soaked in twilight colors and city lights from Solo shining like stars, four of the major planets, Mercury, Venus, Mars and Saturn lined up in a row above western horizon."
"The whole scene was simply surreal," he says, "and it did a much better job taking my breath away than the high altitude!"
Readers, take a deep breath, because this scene is about to get even better. Venus, Mars and Saturn are converging for a rare three-way conjunction in August. The show reaches its peak on August 12th and 13th when the crescent Moon joins them for a sunset gathering of surpassing beauty. Browse the sky maps for coming attractions: July 26, 27, 28, 29, 30, 31, August 1, 2, 3, 4, 5, 6, 7, 8, 9, 10, 11, 12, 13
---
Solar Eclipse Photo Gallery
[NASA: South Pacific Eclipse] [animated map]