| | | |
| --- | --- | --- |
| Where's Saturn? Is that a UFO--or the ISS? What's the name of that star? Get the answers from mySKY--a fun new astronomy helper from Meade. | | |
JULES VERNE DOCKING: On March 31st, the European Space Agency's Jules Verne cargo carrier will approach the International Space Station (ISS) stopping only 12 meters from the docking port and then backing away again. This is practice for the first real automated docking attempt on April 3rd. Sky watchers, check for ISS flybys over your location on those dates; you may be able to witness the docking maneuvers with your own eyes: more.
AURORA WATCH: Sky watchers around the Arctic Circle should be alert for auroras tonight. A solar wind stream is buffeting Earth's magnetic field and causing geomagnetic storms. Here is a snapshot of the sky last night in Salluit, Nunavik, Quebec: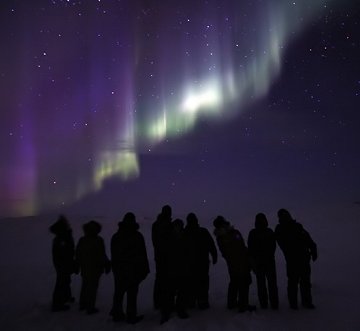 "It was absolutely fabulous--a clear sky, a lot of friends and lots of northern lights!" says Sylvain Serre who took the picture using a Canon EOS 30D set at ISO 800 for 6 seconds. Browse our updated gallery for more scenes from the North:
March 2008 Aurora Gallery
[Aurora Alerts] [Night-sky Cameras]
OLD SOLAR ACTIVITY: This week, three big sunspots are crossing the face of the sun and on March 25th one of them (989) produced a strong M-class solar flare. Many readers have asked, is this the new solar cycle? No, it's the old one. Although Solar Cycle 24 has begun, these are not Cycle 24 spots. Their magnetic polarity associates them with old Cycle 23: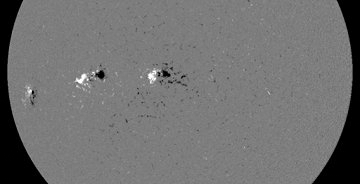 The magnetic map, above, was made by the Solar and Heliospheric Observatory (SOHO) just this morning. It shows the north and south magnetic poles of the three sunspots. All are oriented according to the patterns of Solar Cycle 23. Cycle 24 spots would be reversed.
What's going on? We have two solar cycles active at the same time. Solar Cycle 24 has begun, but Solar Cycle 23 has not ended. This is perfectly normal. Around the time of solar minimum--i.e., now--old-cycle spots and new-cycle spots frequently intermingle. Eventually Cycle 23 will fade to zero, but not yet.
NOAA forecasters estimate a 50% chance of more "old" M-flares during the next 24 hours. Readers, if you have a solar telescope, now is a good time to monitor the sun.
BONUS: During the M-flare of March 25th, radio astronomer Thomas Ashcraft heard a curious "heaving sound" coming from the loudspeaker of his 21 MHz radio telescope in New Mexico: listen. "It was a Type II solar radio burst," he explains. The burst was generated by a shock wave at the leading edge of a CME produced by the explosion: movie.
more images: from Mark Sibole of Fife Lake Michigan; from Jörgen Blom of Stockholm, Sweden; from Masa Nakamura of Otawara, Tochigi, Japan; from Monty Leventhal of Sydney. Australia; from Matthias Juergens of Gnevsdorf, Germany; from Pavol Rapavy of Rimavski Sobota, Slovakia; from Malcolm Park of London, England, UK; from David Thomas of Lynchburg, Virginia;