| | | |
| --- | --- | --- |
| Where's Saturn? Is that a UFO--or the ISS? What's the name of that star? Get the answers from mySKY--a fun new astronomy helper from Meade. | | |
AURORA WATCH: High-latitude sky watchers, be alert for auroras tonight. A solar wind stream (not associated with yesterday's flare) has just hit Earth and it is causing polar geomagnetic storms.
SOLAR ACTIVITY ALERT: With little warning, three big sunspots have materialized and on March 25th one of them (989) unleashed an M2-class solar flare. This is the biggest flare of the year and it signals a significant increase in solar activity. "It's March Madness," says Greg Piepol who photographed the three sunspots from his backyard observatory in Rockville, Maryland: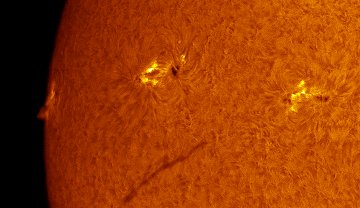 LISTEN: During the M2-flare, radio astronomer Thomas Ashcraft heard a curious "heaving sound" coming from the loudspeaker of his 21 MHz radio telescope in New Mexico: listen. "It was a Type II solar radio burst," he explains. The burst was generated by a shock wave at the leading edge of a CME produced by yesterday's explosion: movie.
NOAA forecasters estimate a 50% chance of more M-flares during the next 24 hours. Readers, if you have a solar telescope, now is a good time to monitor the sun.
more images: from David Thomas of Lynchburg, Virginia; from Paul Haese of Blackwood, South Australia; from Robert Arnold of Isle of Skye, Scotland; from Pete Lawrence of Selsey, West Sussex, UK; from Stephen Ames of Hodgenville, Kentucky; from Mike Strieber of Las Vegas, Nevada; from John Nassr of Baguio, Philippines; from Paul Maxson of Surprise, Arizona; from John Stetson of South Portland, Maine;
SIGHTINGS: The International Space Station and space shuttle Endeavour are circling Earth in tandem and they are putting on a good show for sky watchers who know when to look. "What a wonderful sight," says Dan Bush who sends this photo taken last night from Albany, Missouri: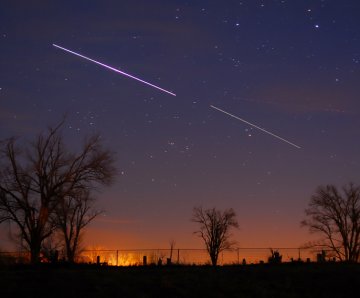 "I couldn't believe how bright the ISS flared at one point," he says. "I used a Nikon D200 at ISO 400 for this 25 second exposure."
Endeavour is scheduled to land at Kennedy Space Center on Wednesday, March 26th, at 7:05 p.m. EDT and at that time the shuttle-ISS apparitions will come to an end. It may still be possible, however, to see two spaceships in the night sky. Shining like a 1st magnitude star, the ESA's Jules Verne cargo carrier is flying 2000 km or 4 minutes ahead of the ISS. The distance between the two spacecraft will shrink in the nights ahead as Jules Verne prepares to dock with the space station. Stay tuned for another eye-catching duo!
Worldwide Map of Shuttle Sightings
[Flyby Timetables] [Spaceweather PHONE]
more images: from Brian Klimowski of Flagstaff, Arizona; from Becky Ramotowski of Tijeras, New Mexico; from Robert Jeffers of Virginia Beach, Virginia; from Billy Teets of Dyer Observatory, Brentwood, TN; from Mike Prokosch of Huntsville, Texas; from Shannon Story of Weatherford, Texas; from Jeff Green of Nashville TN;