| | | |
| --- | --- | --- |
| Where's Saturn? Is that a UFO--or the ISS? What's the name of that star? Get the answers from mySKY--a fun new astronomy helper from Meade. | | |
JULES VERNE DOCKING: On March 31st, the European Space Agency's Jules Verne cargo carrier will approach the International Space Station (ISS) stopping only 12 meters from the docking port and then backing away again. This is practice for the first real automated docking attempt on April 3rd. Sky watchers, check for ISS flybys over your location on those dates; you may be able to witness the docking maneuvers with your own eyes: more.
Jules Verne photos: from Jeff Greenwald of Laramie, Wyoming; from Eugene Miller of Brooklyn,New York; from Phil Harrington of Miller Place, New York
NOT-SO-NORTHERN LIGHTS: It must be springtime. Last night a gust of solar wind sent auroras rippling down from Canada into the United States. Shawn Malone sends this picture from Marquette, Michigan: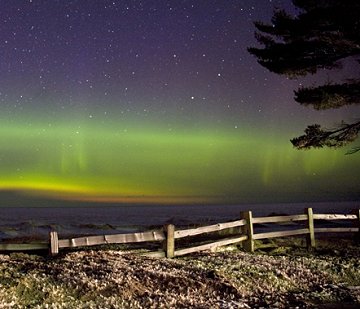 Photo details: Canon 5D, ISO 1600, 15 to 30 sec exp.
"There was a nice burst of aurora activity right after sunset," says Malone who captured the scene using his Canon 5D. "The thawing snowbanks in the foreground were not the most scenic, but I had to act quickly to catch the auroras."
The solar wind continues to blow and more geomagnetic storms are possible tonight. Northern (and not-so-northern) sky watchers should be alert for auroras.
March 2008 Aurora Gallery
[Aurora Alerts] [Night-sky Cameras]
SUNSPOT SUNSET: A few evenings ago, Mark Walters of
Four Crosses, Wales, trained his Personal Solar Telescope on the western horizon--"I was hoping to catch the new sunspots before nightfall," he says--and took this dramatic photo: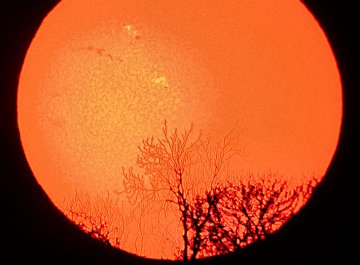 "The sun was setting behind trees almost a mile away," he explains. The branches look almost frosted compared to the furnace behind."
In the photo, sunspots 987 and 988 are the light-and-dark blotches just above the treetops. These old-cycle spots are putting on a good show for amateur astronomers with solar telescopes--no trees required!
more images: from Mark Sibole of Fife Lake Michigan; from Jörgen Blom of Stockholm, Sweden; from Masa Nakamura of Otawara, Tochigi, Japan; from Monty Leventhal of Sydney. Australia; from Matthias Juergens of Gnevsdorf, Germany; from Pavol Rapavy of Rimavski Sobota, Slovakia; from Malcolm Park of London, England, UK; from David Thomas of Lynchburg, Virginia;