| | | |
| --- | --- | --- |
| ANDROID FLYBYS: Our field-tested satellite tracker is now available for Android phones. Features: Global predictions and flyby alarms! Learn more. | | |
SUNSET PLANETS: Mars and Saturn are converging with Venus to form a skinny triangle in the sunset sky. When the sun sets tonight, go outside and look west. Venus pops out of the twilight first, followed by Saturn, then Mars. Dates of note include July 30th and 31st when Saturn and Mars are only 2o apart. Sky maps: July 25, 26, 27, 28, 29, 30, 31.
THUNDER MOON: Picture this: You step outside on a warm summer evening. In the distance, a stroke of lightning lunges to Earth. One-one-thousand, two-one-thousand, three-one-thousand. The air shakes with thunder and, at that moment, the clouds part to reveal a brilliant full Moon. Too good to be true? It could happen tonight. According to folklore, tonight's full Moon is the "Thunder Moon", named after the storms of summer. Step outside and see what happens!
Arnel C. Manlises sends this picture of moonlit thunderclouds from the Philippines: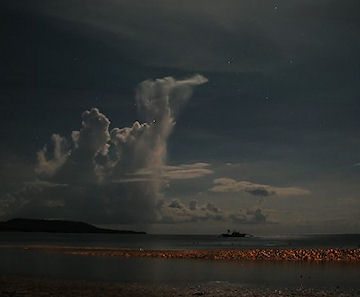 "The scene was breathtaking," says Manlises. "Majestic clouds reached up to the Moon while the silhouette of a solitary boat headed out to sea in calm waters." Click here for the complete picture.
more images: from Stuart Atkinson of Kendal, Cumbria, UK
SUNSPOT 1089: The two dark cores of sunspot 1089 are each larger than Earth, and the whole region is criss-crossed by dark magnetic filaments. It's a photogenic ensemble: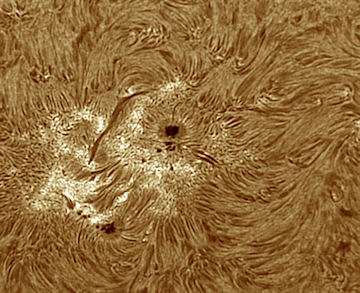 "I like how the sunspots of new Solar Cycle 24 continue to get bigger and more complex as the cycle unfolds," says photographer Micheal Borman of Evansville, Indiana. "This picture was taken with my Televue 102iis refractor and a Coronado SM90 solar filter."
Although sunspot 1089 is big, it has not yet produced any flares of consequence. Perhaps it is gathering energy for a good eruption. Readers with solar telescopes are encouraged to monitor developments.
more images: from John Stetson of South Portland, Maine; from Peter Paice of Belfast,Northern Ireland; from Cai-Uso Wohler of Bispingen, Germany; from Peter Desypris of Island of Syros Greece;
---
Solar Eclipse Photo Gallery
[NASA: South Pacific Eclipse] [animated map]