| | | |
| --- | --- | --- |
| Where's Saturn? Is that a UFO--or the ISS? What's the name of that star? Get the answers from mySKY--a fun new astronomy helper from Meade. | | |
NOT-SO-QUIET SUN: With little warning, two large sunspots have suddenly appeared near the sun's equator. Numbered 987 and 988, each is at least three times wider than Earth and growing rapidly. So far the spots have not produced any significant eruptions, but their potential for flares is improving. Readers, if you have a solar telescope, now is a good time to monitor the sun.
UPDATE: A third sunspot is emerging near the sun's eastern limb as shown in these images from Greg Piepol of Rockville, Maryland; from Pete Lawrence of Selsey, West Sussex, UK; from P-M Hedén of Vallentuna, Sweden; and from Stephen Ames of Hodgenville, Kentucky.
SIGHTINGS: Last night, March 24th at 8:25 pm EDT, space shuttle Endeavour undocked from the International Space Station. Forty-five minutes later, the pair flew over Daytona Beach, Florida, separated by only 600 feet: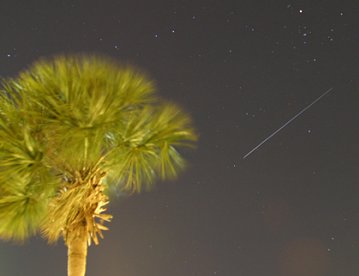 "At the time, Endeavour was performing the flyaround maneuver at the station before pulling away," says photographer Benjamin P. Cooper. "The two spacecraft were so close together, they appeared as a single point of light." By the time they reached the US west coast, however, the separation was obvious--see, e.g., this photo of the split-pair disappearing behind Brian Karczewski's home satellite dish in Hemet, California.
These double flybys will continue for the next 24+ hours as the shuttle continues to pull away from the ISS and prepares to land on Wednesday, March 26th. Actually, you may be able to see a triple flyby. The ESA's Jules Verne spacecraft is flying 2000 km ahead of the shuttle-station combo and it streaks across the sky approximately four minutes before Endeavour and the ISS. US and Canadian readers can find out when to look using our new Simple Satellite Flybys tool.
HAWAIIAN BLAST: Around 3:00 a.m. on March 19, 2008, Hawaii's Kilauea volcano erupted explosively for the first time since 1924. Volcano researcher Steve O'Meara (shown below in a self portrait) was one of the last persons to see Halemaumau, the volcano's summit crater, still intact before the big blast: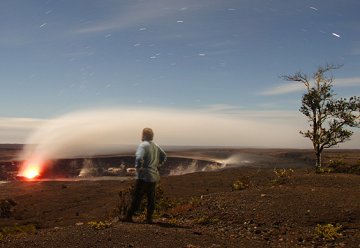 Steve left the summit around 11:00 p.m. on March 18th shortly after he felt the ground shake and heard solid rock crack beneath his feet. "It was eerie," he says. "After that my eyes were wide open." The explosion took most scientists by surprise, though Steve's wife and fellow researcher, Donna, called it right. After a heavy rain, she predicted an explosive event--and that's just what happened. A follow-up photo shows the volcano on the evening of March 19th, post-explosion, as it continued to erupt steam and dark ash.