CLOUDS AT THE EDGE OF SPACE: High above Earth, astronauts on board the International Space Station have taken one of the best-ever photos of noctilucent clouds. Their image highlights a growing mystery: Where do these clouds come from and why are they spreading? Science@NASA has the full story.
PROTO NEW-CYCLE SUNSPOT: For the second time this month, a new-cycle sunspot is struggling to form. SOHO magnetograms of the sun's surface reveal a planet-sized magnetic dipole with the telltale polarity of Solar Cycle 24: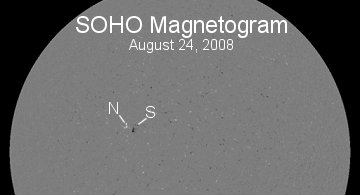 Last week, these magnetic fields briefly coelesced into a pair of dark cores, then subsided. The apparition was too ephemeral to be included in official daily sunspot counts. For now, put this active region in the category of "struggling proto-sunspot."
Sometimes the ongoing solar minimum seems like it will never end. This proto-sunspot, as well as a similar one in early August, offers hope to observers that the solar cycle is actually moving forward. The calm won't last forever.
more images: from Pete Lawrence of Selsey, West Sussex, UK; from Michael Buxton of Ocean Beach, California
SUNDOG DAYS: In the northern hemisphere, the dog days of summer are upon us. No, make that sundog days: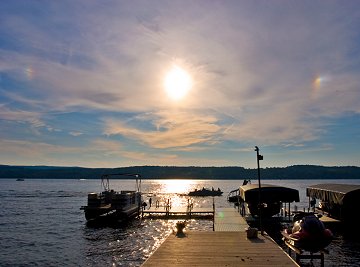 Andy Chatman photographed these colorful dogs flanking the summer sun over Canandaigua Lake, New York, on Aug. 23rd. It was a hot day on the lake, but the ice crystals that form sundogs had no trouble staying frozen. That's because air five miles high, where icy clouds float in front of the sun, is always freezing no matter how hot it gets on the ground. Every day is a sundog day.
more images: from Andreas Milias of Zurich, Switzerland; from Jan Hanford of San Rafael, California; from Dean Drumheller of San Mateo California; from John C McConnell of Maghaberry Northern Ireland;
---