SPACE STATION DAWN: For the next 7 to 10 mornings, the International Space Station (ISS) will be flying over Europe and North America, cutting a bright path among the stars just before sunrise. Check the Simple Satellite Tracker to find out when to look; it's a nice way to start the day.
SOLAR ACTIVITY: The sun is quiet. Sunspots are few. There hasn't been a solar flare in months. Who needs them? Sometimes the best solar activity is a sunrise: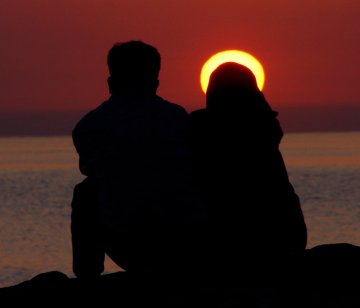 "I will never forget this nice morning," says Mohamad Soltanolkottabi who took the picture Friday from a beach on the Caspian sea in northern Iran. "We witnessed a stunning omega sun."
Omega sun? Click here and here to see what lies behind the female silhouette. The omega sun is a mirage caused by warm air and a strong temperature gradient just above the Caspian sea surface. No sunspots are required for this type of solar activity--good thing.
JUPITER AND IO: Last night, Aug. 23rd, Jupiter's volcanic moon Io cast its shadow on Jupiter's cloudtops. "It was a good show," says Joel Warren, who photographed the event using his 8-inch backyard telescope in Amarillo, Texas: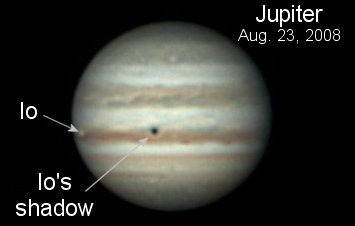 Next Saturday, Aug. 30th, Jupiter returns the favor. The giant planet will cast its colossal shadow on Io, completely swallowing the moon in darkness. The moment to watch is 11:13 p.m. EDT (8:13 p.m. PDT) on August 30th. That's when Io exits the shadow and reappears to Jupiter's east. It's fun to watch an alien world materialize in what appears to be an empty void. Point your telescope due south after sunset: sky map.
more images: from Ralph Ford of Redondo Beach, California; from Efrain Morales Rivera of Aguadilla, Puerto Rico; from Paul Haese of Blackwood, South Australia; from Sadegh Ghomizadeh of Tehran, Iran; from Ron Cottrell of Tucson, Arizona;
---