CLOUDS AT THE EDGE OF SPACE: High above Earth, astronauts on board the International Space Station have taken one of the best-ever photos of noctilucent clouds. Their image highlights a growing mystery: Where do these clouds come from and why are they spreading? Science@NASA has the full story.
SOLAR ACTIVITY: How many gigantic dancing, spinning magnetic eruptions can a person watch at one time? Click on the image below and start counting: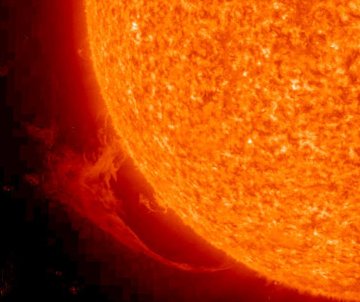 Movie formats: 4 MB Quicktime, 7 MB mpg, 31 MB Quicktime
If you counted fewer than four, play it again. In the movie, made by NASA's STEREO-A spacecraft on August 15 and 16, every quadrant of the sun has at least one magnetic prominence surging over the limb. Prominences are clouds of hydrogen held aloft, twisted and sheared, and ultimately hurled into space or pulled back into the inferno by solar magnetic fields. It's a form of solar activity that continues even when sunspots are scarce. The sun: this is as "quiet" as it gets.
CREPUSCULAR RAYS: Immense tubes of darkness cut across the twilight sky, dividing the sunset into luminous auburn wedges. The technical term for this phenomenon is crepuscular rays: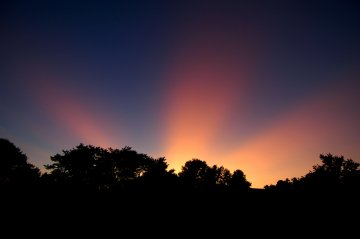 Photo details: Nikon D70, 12mm lens, 1/40th second exposure.
The spectacular example above was photographed last night by Dan Bush of Albany, Missouri. "The display was caused by clouds in Nebraska casting their shadows towards me here in Missouri," he says. "The display began about 20 minutes after sunset and lasted for only a few minutes--just long enough for a snapshot with my Nikon D70."
Got clouds? That's all you need. Watch the western horizon after sunset for crepescular rays of your own.
more images: from Pete Low of Baltimore, Ireland; from Oana Suciu of Turda, Romania; from Linda Neilsen of Kent, Washington; from Joseph M. Golebieski of Toms River, New Jersey; from Mark Poe of Aberdeen, South Dakota: from Rodrigo Roesch of Beaver City, Indiana; from Yasmin Angelique Walter of Chamonix, Mt. Blanc, France; from Rick Ellis of Toronto, Ontario;
---