| | | |
| --- | --- | --- |
| ANDROID FLYBYS: Our field-tested satellite tracker is now available for Android phones. Features: Global predictions and flyby alarms! Learn more. | | |
BRIGHT BODIES: Many of the brightest objects in Earth orbit are not satellites, but rather the big rocket bodies that propelled those satellites off Earth's surface. This weekend, our Simple Satellite Tracker is highlighting derelict rocket bodies. Not only are they bright, but also they tend to flash as they tumble through space. Rocket bodies even have their own app. Check it out!
LUNAR TRANSIT: Last night, the International Space Station (ISS) flew directly in front of the Sea of Tranquility. Leonardo Julio sends this picture from Buenos Aires, Argentina:
"At first, the Moon was behind clouds," says Julio. "They parted just in time!" Moving at 17,000 mph, the ISS took only 0.4 seconds to cross the face of the gibbous Moon. "I recorded the split-second transit using an 8-inch Meade telescope and a Canon 350D digital camera."
This weekend, the Moon is nearly full, so there will be plenty of bright lunar terrain for spaceship silhouettes. Check Calsky for transit forecasts.
MAGNETIC FILAMENT: NASA's Solar Dynamics Observatory is beaming back images of unprecedented clarity. On a daily basis, solar physicists are seeing things on the sun that for decades they could only imagine. Today's example is this magnetic filament: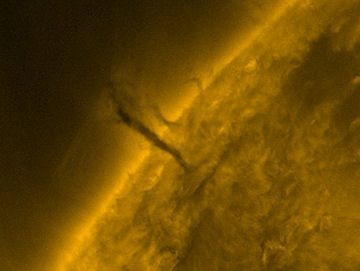 Scarcely wider than California, the tubular structure holds millions of tons of relatively cool and dense solar plasma. Researchers are scrutinizing images like these to see what effect magnetic filaments have on the surrounding solar atmosphere. It's a mesmerizing occupation, because you never know when a filament will become unstable, either collapsing or exploding--or both. If this one ends in a blast, SDO's Atmospheric Imaging Assembly will record the action in full detail. Stay tuned!
---
Solar Eclipse Photo Gallery
[NASA: South Pacific Eclipse] [animated map]