| | | |
| --- | --- | --- |
| Where's Saturn? Is that a UFO--or the ISS? What's the name of that star? Get the answers from mySKY--a fun new astronomy helper from Meade. | | |
JULES VERNE AND THE ISS: Europe's Jules Verne spacecraft is orbiting Earth just ahead of the International Space Station (ISS) and this week the pair can be seen flying in tandem across the night sky. Jules Verne comes first, glowing about as brightly as a 1st-magnitude star, followed by the ISS five minutes later. When should you look? Click here for simple flyby predictions.
NOT-SO-QUIET SUN: The sun may be at a low point of its 11-year cycle, but there was plenty of solar activity this weekend. On March 22nd, Texas astronomer Larry Alvarez looked through his his Coronado SolarMax90 and watched a "monster prominence" spew over the sun's southeastern limb:
A day later on March 23rd, Easter Sunday, two new sunspots broke through the sun's surface and a dark magnetic filament appeared. Lesson: A 1027-ton nuclear explosion (a star) is never truly quiet. Readers with solar telescopes, prepare for action.
more images: from Cai-Uso Wohler of Bispingen, Germany; from Mark Walters of Powys, Wales, UK; from John Nassr of Baguio, the Philippines; from James Kevin Ty of Manila, the Philippines; from Pete Lawrence of Selsey, West Sussex, UK; from John Stetson of South Portland, Maine; from Mike Borman of Evansville, Indiana; from Erika Rix of Zanesville, Ohio
HAWAIIAN BLAST: Around 3:00 a.m. on March 19, 2008, Hawaii's Kilauea volcano erupted explosively for the first time since 1924. Volcano researcher Steve O'Meara (shown below in a self portrait) was one of the last persons to see Halemaumau, the volcano's summit crater, still intact before the big blast: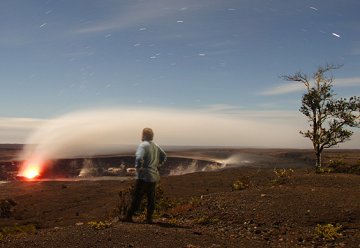 Steve left the summit around 11:00 p.m. on March 18th, shortly after he felt the ground shake and heard solid rock crack beneath his feet. "It was eerie," he says. "After that my eyes were wide open." The explosion took most scientists by surprise, though Steve's wife and fellow researcher, Donna, called it right. After a heavy rain, she predicted an explosive event--and that's just what happened. A follow-up photo shows the volcano on the evening of March 19th as it continued to erupt steam and dark ash.