SPACE STATION DAWN: For the next 7 to 10 mornings, the International Space Station (ISS) will be flying over Europe and North America, cutting a bright path among the stars just before sunrise. Check the Simple Satellite Tracker to find out when to look; it's a nice way to start the day.
SOLAR ACTIVITY: The sun is quiet. Sunspots are few. There hasn't been a solar flare in months. Who needs them? Sometimes the best solar activity is a sunrise: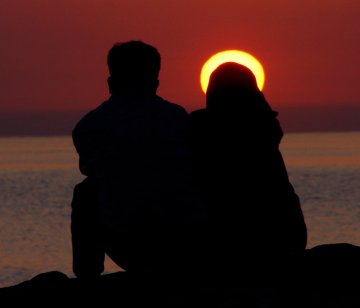 "I will never forget this nice morning," says Mohamad Soltanolkottabi who took the picture yesterday from a beach on the Caspian sea in northern Iran. "We witnessed a stunning omega sun."
Omega sun? Click here and here to see what lies behind the female silhouette. The omega sun is a mirage caused by warm air and a strong temperature gradient just above the Caspian sea surface. No sunspots are required for this type of solar activity--good thing.
OZONE FRINGE: When you think of a lunar eclipse, the color that comes to mind is red. The core of Earth's shadow is reddened by atmospheric scattering, and when that shadow falls across the Moon, the lunar landscape turns as red as a sunset. Yet telescopic observers of the Aug. 16th lunar eclipse saw another hue--turquoise: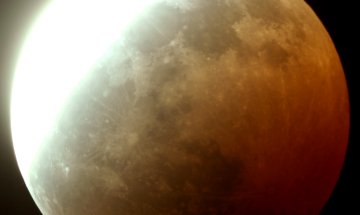 This photo, taken by Theodoros Jiaourtsis of Nea Moudania, Greece, using an 8-inch telescope and a Canon 350D digital camera, shows how the inner red shadow has a pale blue-green circumference.
The source of the turquoise is ozone. Eclipse researcher Dr. Richard Keen of the University of Colorado explains: "Most of the light illuminating the moon passes through the stratosphere, and is reddened by scattering. However, light passing through the upper stratosphere penetrates the ozone layer, which absorbs red light and actually makes the passing light ray bluer!" This can be seen, he says, as a turquoise fringe around the red.
Browse the gallery for more ozone: