| | | |
| --- | --- | --- |
| ANDROID FLYBYS: Our field-tested satellite tracker is now available for Android phones. Features: Global predictions and flyby alarms! Learn more. | | |
AURORA WATCH: High-latitude sky watchers should be alert for auroras tonight. A solar wind stream is about to hit Earth's magnetic field, and the impact could spark geomagnetic storms.
SUNSPOT SUNSET: Sunspot 1089 has grown so large, it can now be seen without the aid of a solar telescope. On July 21st, Gil Esquerdo "spotted it" as the sun set over Kitt Peak, Arizona: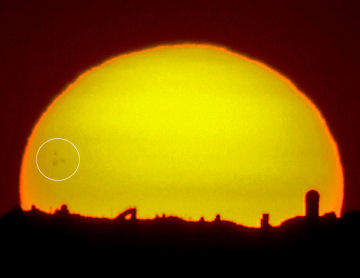 Photo details: Canon 20Da, ISO 100, 1/8000s exposure
Esquerdo was located on adjacent Mt. Hopkins. "Twice a year, the sun sets behind Kitt Peak as seen from the ridge on Mt. Hopkins and the Whipple Observatory," he says. "Our monsoon thunderstorms cooperated long enough for me to photograph the event."
Kitt Peak is home to more than a dozen world-class telescopes, and many of their silhouettes can be seen in Esquerdo's photo. Highlights include the triangular profile of the great McMath-Pierce solar telescope and the towering dome of the Mayall 4-meter telescope.
Caution: Although sunspot 1089 is large enough to see with the naked eye, looking for it is not recommended. Even when sunlight is dimmed by clouds and haze, you can still suffer permanent eye damage by staring too long at the unfiltered sun. Be careful.
more images: from Rogerio Marcon of Campinas SP Brasil; from John Stetson of South Portland, Maine; from Mogens Nissen of Aalborg, Denmark; from Denis Fell of Wetaskiwin, Alberta, Canada; from Gianfranco Meregalli of Milano Italy; from Peter Desypris of Syros Greece; from Etienne Lecoq of Normandy France; from Roman Vanur of Nitra, Slovakia; from Pavol Rapavy of Observatory Rimavska Sobota, Slovakia; from Steve Wainwright of Gower S.Wales UK;
VIEW FROM A JACUZZI: Yesterday in the San Bernardino mountains of southern California, photographer Nicolas Gorceix was enjoying a break in his jacuzzi. As hot water swirled around the tub, he leaned back and saw this: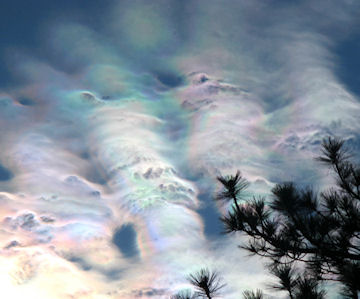 "What a fantastic show!" he says. "I took these pictures using a simple camera pointed through my polarizing sun glasses--I didn't even have to get out of the jacuzzi."
The phenomenon is called iridescence. Tiny water droplets and ice crystals in clouds diffract sunlight, producing pastel hues of surpassing beauty. Mountain wave clouds are notorious for this kind of display.
Coincidentally, Gorceix's jacuzzi is located on Big Bear Lake just downshore from North America's biggest solar telescope, the New Solar Telescope at the Big Bear Solar Observatory. Inside the dome, a different kind of display was underway. Click here for latest images.
---
Solar Eclipse Photo Gallery
[NASA: South Pacific Eclipse] [animated map]