2/3RDS OF THE SUN: From Earth, at any given moment, we see precisely 50% of the sun. That's not enough. To properly forecast space weather and research solar physics, 100% is preferred. NASA's STEREO mission is approaching the ideal. The mission's two spacecraft are now separated by 66o (diagram), allowing them to see a full 2/3rds of the sun. When the two spacecraft are 180o apart in 2011, they will for the first time directly observe the entire sun at the same time. No sunspot will ever surprise us again: full story.
NOT A SUNSPOT: Not every spot on the sun is a sunspot. As an example, consider this photo taken yesterday by John Stetson and students (P. Fazzi and J. Fairfull) in Freeport, Maine: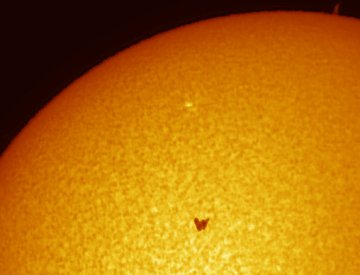 The butterfly-shaped "sunspot" near the bottom of the frame is the International Space Station. "We caught it making a transit of the sun," says Stetson. "The station's silhouette was huge."
Will the real sunspot please stand up? Click here. The bright white magnetic froth just above the ISS is a genuine sunspot struggling to emerge from the sun's fiery depths. Readers, if you have a solar telescope, keep an eye on that area; you may witness sunspot genesis in action.
more images: from Pete Lawrence of Selsey, West Sussex, UK
OZONE FRINGE: When you think of a lunar eclipse, the color that comes to mind is red. The core of Earth's shadow is reddened by atmospheric scattering, and when that shadow falls across the Moon, the lunar landscape turns as red as a sunset. Yet telescopic observers of the Aug. 16th lunar eclipse saw another hue--turquoise: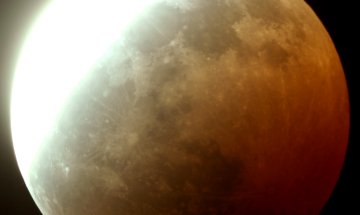 This photo, taken by Theodoros Jiaourtsis of Nea Moudania, Greece, using an 8-inch telescope and a Canon 350D digital camera, shows how the inner red shadow has a pale blue-green circumference.
The source of the turquoise is ozone. Eclipse researcher Dr. Richard Keen of the University of Colorado explains: "Most of the light illuminating the moon passes through the stratosphere, and is reddened by scattering. However, light passing through the upper stratosphere penetrates the ozone layer, which absorbs red light and actually makes the passing light ray bluer!" This can be seen, he says, as a turquoise fringe around the red.
Browse the gallery for more ozone: