| | | |
| --- | --- | --- |
| NEW AND IMPROVED: Turn your iPhone or iPod Touch into a field-tested global satellite tracker. The Satellite Flybys app now works in all countries. | | |
TEN COOL THINGS ON THE MOON: NASA's Lunar Reconnaissance Orbiter (LRO) has been circling the Moon for one year. To celebrate the anniversary, mission scientists have released a list of LRO's top ten photos. Highlights include astronaut footprints, lunar pits, and mysterious river-like channels cutting through the moondust. Start browsing here.
AURORAS FROM ABOVE: Have you ever wondered what auroras look like from above? Astronauts onboard the International Space Station found out on May 29th when they flew through a geomagnetic storm and witnessed this green ribbon snaking over the Indian Ocean: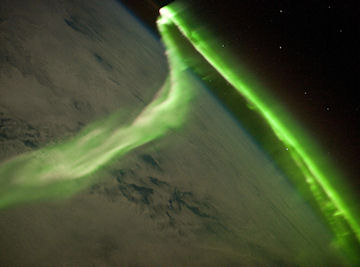 The bright display of Southern Lights was sparked by a solar coronal mass ejection (CME), which hit Earth's magnetic field and sparked a G1-class geomagnetic storm. On the other end of the planet, the same storm produced bright Northern Lights over Wisconsin, Minnesota and parts of Canada. Both poles were ringed in light at the same time.
This isn't the first time astronauts have seen auroras underfoot. The shuttle has flown right through auroral curtains with no ill effects--other than time lost while the crew crowds around the window to stare.The ISS also turns out to be a wonderful platform for aurora watching.
Next up: A solar wind stream is due to hit Earth's magnetic field on June 26th, possibly sparking a new round of geomagnetic activity. Sky watchers above and below should be alert for auroras.
NOCTILUCENT SUMMER: Summer is the season for noctilucent ("night-shining") clouds, and right on cue, the summer solstice has brought some lovely displays of electric blue: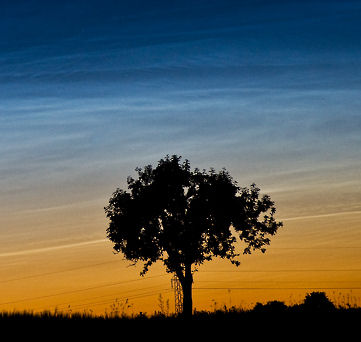 "We had a very nice NLC show on the first day of summer," reports Marek Nikodem, who took the picture using a Nikon D700. "Noctilucent cloud season has officially begun here in Szubin, Poland!"
more images: from Jun Lao flying 33,000 feet over the North Atlantic Ocean; from Mikhail Kuzmin of Sergiev-Posad, Russia; from Frank Ryan Jr of Loop Head, Co. Clare, Ireland
When noctilucent clouds first appeared in the late 19th century, they were confined Arctic latitudes--i.e., places like Scandinavia, Siberia and the northern territories of Canada. In recent years, however, NLCs have increased their range with sightings in the United States as far south as Colorado and Utah. Researchers aren't sure why these mysterious clouds are spreading. It's a lovely mystery, and monitoring is encouraged!
Observing tips: Look west 30 to 60 minutes after sunset when the Sun has dipped 6o to 16o below the horizon. If you see luminous blue-white tendrils spreading across the sky, you may have spotted a noctilucent cloud.
---
May 2010 Aurora Gallery
[previous Mays: 2008, 2005, 2004, 2003, 2002] [aurora alerts]