| | | |
| --- | --- | --- |
| ANDROID FLYBYS: Our field-tested satellite tracker is now available for Android phones. Features: Global predictions and flyby alarms! Learn more. | | |
AURORA WATCH: A solar wind stream is heading for Earth, due to arrive on or about June 26th. High-latitude sky watchers should be alert for auroras on that date.
SPACE STATION MARATHON: The International Space Station (ISS) is about to put on a remarkable show. For the next few days, the behemoth spacecraft will be in almost-constant sunlight. This means it will shine brightly in the night sky every single time it passes overhead. Some observers can see it 3, 4, even 5 times a night! (continued below)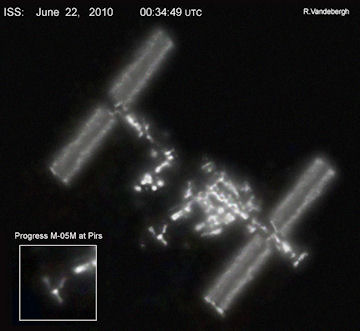 Above: The ISS on June 22. Credit: Ralf Vandebergh. [details]
There are three easy ways to prepare for this "ISS marathon." First, you can check our online Simple Satellite Tracker for viewing times. Second, if you have an iPhone, download the Simple Flybys app and your iPhone will guide you to the space station. Third, and finally, our flybys app is now available for Android phones, too!
AURORAS FROM ABOVE: Have you ever wondered what auroras look like from above? Astronauts onboard the International Space Station found out on May 29th when they flew through a geomagnetic storm and witnessed this green ribbon snaking over the Indian Ocean: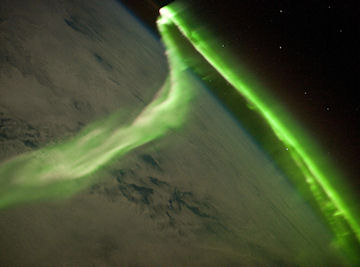 The bright display of Southern Lights was sparked by a solar coronal mass ejection (CME), which hit Earth's magnetic field and sparked a G1-class geomagnetic storm. On the other end of the planet, the same storm produced bright Northern Lights over Wisconsin, Minnesota and parts of Canada. Both poles were ringed in light at the same time.
This isn't the first time astronauts have seen auroras underfoot. The shuttle has flown right through auroral curtains with no ill effects--other than time lost while the crew crowds around the window to stare.The ISS also turns out to be a wonderful platform for aurora watching.
Next up: A solar wind stream is due to hit Earth's magnetic field on June 26th, possibly sparking a new round of geomagnetic activity. Sky watchers above and below should be alert for auroras.
May 2010 Aurora Gallery
[previous Mays: 2008, 2005, 2004, 2003, 2002] [aurora alerts]