| | | |
| --- | --- | --- |
| NEW AND IMPROVED: Turn your iPhone or iPod Touch into a field-tested global satellite tracker. The Satellite Flybys app now works in all countries. | | |
PARTIAL LUNAR ECLIPSE: This Saturday, June 26th, the Moon will pass through Earth's shadow for a partial lunar eclipse. The event lasts for almost three hours centered on 11:38 UT (4:38 am PDT). At maximum, about 53% of the Moon's surface will be covered by the dark-red core of Earth's shadow. Sky watchers in the Americas, Australia, east Asia and India are favored: visibility map.
NOCTILUCENT SUMMER: Summer is the season for noctilucent ("night-shining") clouds, and right on cue, the summer solstice has brought some lovely displays of electric blue: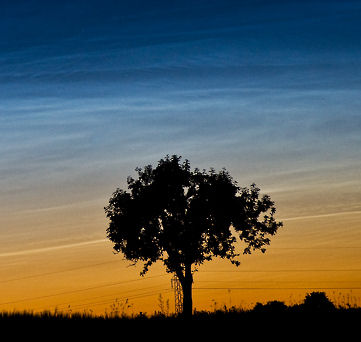 "We had a very nice NLC show on the first day of summer," reports Marek Nikodem, who took the picture using a Nikon D700. "Noctilucent cloud season has officially begun here in Szubin, Poland!"
more images: from Jun Lao flying 33,000 feet over the North Atlantic Ocean; from Mikhail Kuzmin of Sergiev-Posad, Russia; from Frank Ryan Jr of Loop Head, Co. Clare, Ireland
When noctilucent clouds first appeared in the late 19th century, they were confined Arctic latitudes--i.e., places like Scandinavia, Siberia and the northern territories of Canada. In recent years, however, NLCs have increased their range with sightings in the United States as far south as Colorado and Utah. Researchers aren't sure why these mysterious clouds are spreading. It's a lovely mystery, and monitoring is encouraged!
Observing tips: Look west 30 to 60 minutes after sunset when the Sun has dipped 6o to 16o below the horizon. If you see luminous blue-white tendrils spreading across the sky, you may have spotted a noctilucent cloud.
DAWN COMET: Comet McNaught (C/2009 R1) is swinging around the sun, and solar glare is making the wispy-tailed comet difficult to see. Nevertheless, astronomer Enrico Colzani was able to glimpse it this morning just before sunrise at the Sormano Astronomical Observatory in Italy: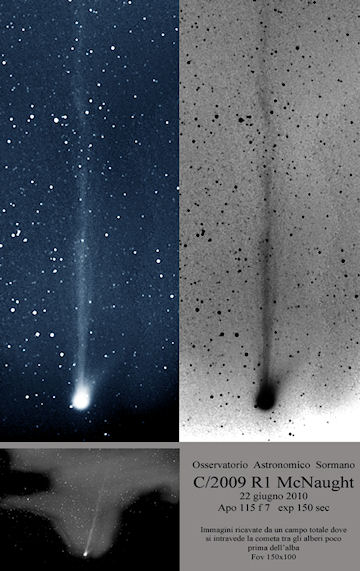 "The comet was actually moving among the trees, hanging very low over the northeastern horizon at the time I photographed it," he says. "I used a 150mm (4.4-inch) refractor to take this 150 second exposure."
Theoretically, the comet could brighten to naked eye visibility around July 2nd when it makes its closest approch to the sun (perihelion). Practically, the bright sun itself will prevent any sightings. After perihelion, the comet will recede from the sun and begin to fade. The final mornings of June, therefore, could offer our last good look at this blue-green apparition from the outer solar system. More information and a sky map are available from Sky and Telescope. See also: ephemeris, 3D orbit.
---
May 2010 Aurora Gallery
[previous Mays: 2008, 2005, 2004, 2003, 2002] [aurora alerts]