LIVING WITH A STAR: What if you woke up one morning and found your whole planet had been swallowed by the atmosphere of a star? Don't laugh, it could happen to you, and NASA has a special program to deal with it: full story.
NEW SUNSPOTS: A new sunspot is emerging near the sun's eastern limb. Pavol Rapavy sends this picture, taken just hours ago, from his backyard observatory in Rimavska Sobota, Slovakia: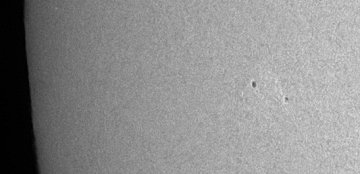 These spots aren't large, but they are noteworthy as the first sunspots in more than a month. Moreover, they are growing rapidly, offering an opportunity for onlookers to witness sunspot genesis in action. If you have a solar telescope, take a look.
more images: from Pete Lawrence of Selsey, West Sussex, UK
OZONE FRINGE: When you think of a lunar eclipse, the color that comes to mind is red. The core of Earth's shadow is reddened by atmospheric scattering, and when that shadow falls across the Moon, the lunar landscape turns as red as a sunset. Yet telescopic observers of the Aug. 16th lunar eclipse saw another hue--turquoise: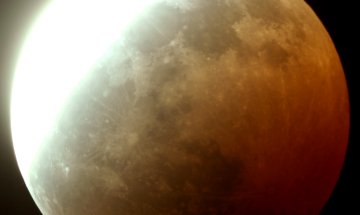 This photo, taken by Theodoros Jiaourtsis of Nea Moudania, Greece, using an 8-inch telescope and a Canon 350D digital camera, shows how the inner red shadow has a pale blue-green circumference.
The source of the turquoise is ozone. Eclipse researcher Dr. Richard Keen of the University of Colorado explains: "Most of the light illuminating the moon passes through the stratosphere, and is reddened by scattering. However, light passing through the upper stratosphere penetrates the ozone layer, which absorbs red light and actually makes the passing light ray bluer!" This can be seen, he says, as a turquoise fringe around the red.
Browse the gallery for more ozone: