| | | |
| --- | --- | --- |
| NEW AND IMPROVED: Turn your iPhone or iPod Touch into a field-tested global satellite tracker. The Satellite Flybys app now works in all countries. | | |
SUMMER SOLSTICE: Today is the beginning of northern summer. The change of seasons occurs on June 21st at precisely 11:28 UT (7:28 a.m. EDT) when the sun reaches its highest point on the celestial sphere. Because Earth's seasons are reversed in the two hemispheres, today is also the beginning of southern winter. Whichever side of the planet you inhabit, Happy Solstice!
MIDNIGHT RAINBOW: It could only happen around the summer solstice. "I recently witnessed a 'midnight rainbow,'" reports M-P Markkanen of Kuusamo, Finland. "It towered high in the sky and lasted from 10 pm until 3am local time on June 12th." He captured the moment using a Nikon D80: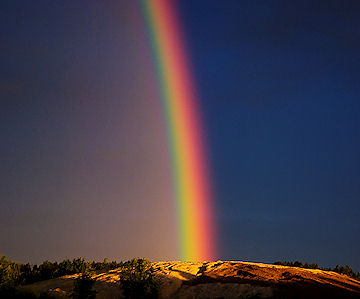 A rainbow at midnight. How can this be? Simple. Kuusamo is on the verge of the Arctic Circle, and at this time of year the sun never completely sets. Hanging low in the midnight sky, it shines up on distant rainclouds, creating a remarkably tall rainbow. "I guess you couldn't see a rainbow much taller than that," says Markkanen. "It was a clear sign of the coming solstice!"
WEEKEND ERUPTIONS: Over the weekend, the sun produced two massive eruptions. The action began on June 19th when old sunspot 1081 exploded on the far side of the sun. NASA's Solar Dynamics Observatory (SDO) witnessed huge plumes of twisting debris rising up over the sun's northwestern limb: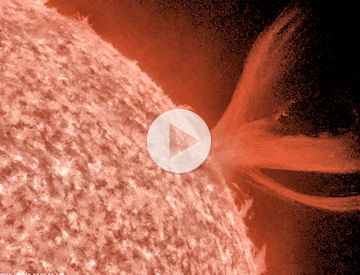 movie formats: 3.4 MB mpeg, 1.1 MB iPad, 0.9 MB iPhone
We know the source of this farside blast because NASA's STEREO-Ahead spacecraft is stationed over the sun's western limb, and it had a direct view of the blast site: movie.
The next event was easier to see. On June 20th, magnetic fields running along the sun's eastern limb became unstable and ... you know what happened. The resulting blast was one of the biggest in recent years. It was so big, it exceeded the field of view of SDO's high-res cameras. SDO mission scientists are processing the data now to get the most out of it. Meanwhile, enjoy this preview.
more sun-shots: from Rogerio Marcon of Campinas, Brasil; from Andy Devey of Barnsley, England; from Peter Desypris of Syros, Greece; from Alan Friedman of Buffalo, NY; from Les Marczi of Welland, Ontario, Canada; from Larry Alvarez of Flower Mound, Texas;
---
May 2010 Aurora Gallery
[previous Mays: 2008, 2005, 2004, 2003, 2002] [aurora alerts]