Where's Saturn? Is that a UFO--or the ISS? What's the name of that star? Get the answers from mySKY--a fun new astronomy helper from Meade.

LONDON FIREBALL? Andrew J. Brown of Chelmsford in Essex (35 miles north of London) reports a bright fireball tonight at 20:41 UT. "I happened to look out of the window and saw through the thin cloud layer a bizarre 'flaming' orange object about 1/4 the diameter of the full moon. It moved slowly from north to south at about the same pace as the ISS." Confirming reports and photos are welcomed.

DOUBLE FLYBYS COME TO AN END: Space shuttle Endeavour landed today at Kennedy Space Center. This brings to an end the spectacular double flybys of Aug. 19th and 20th when Endeavour and the International Space Station (ISS) orbited in tandem over the USA and Canada. Joe Westerberg took this picture of the pair soaring over the Joshua Tree National Park in California: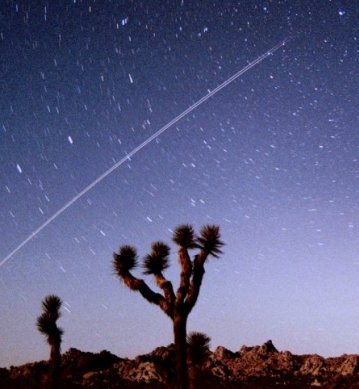 The ISS will continue to make nighttime appearances for the rest of the week--alone now but still splendid in isolation: flyby alerts.
more images: from Brian Klimowski of Flagstaff, Arizona; from Jeremy Perez of Flagstaff, Arizona, USA; from Michael Reuter of Oak Ridge, TN; from Ted Jerome of West Lebanon, NH; from Bill R. of Longmont, CO; from Richard McCoy of Mead, CO; from Ron Hodges of Midland, TX; from Michael Boschat of Halifax, Nova Scotia; from Sam Ballin of Tujunga, CA; from Peter Lipscomb of Santa Fe, NM.
MARK YOUR CALENDAR: Where will you be ten years from now? Hopefully in the path of totality. On Aug. 21, 2017, there will be a total eclipse of the sun directly above the continental United States. Graphic artist Larry Koehn created this animated preview: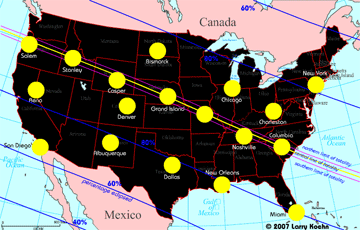 Click to view a full-sized map
The path of totality crosses hundreds of US towns and cities including Salem, Kansas City, St. Louis, and Nashville. Residents of those places can experience the cool sweep of the Moon's shadow and the ghostly, shimmering solar corona without even leaving their own back yard. But many people will travel--to Kentucky. A spot just northwest of Hopkinsville KY will be in the Moon's shadow longer than any other, a full 2 minutes and 40 seconds. Eclipse chasers--people who once were normal, but now race to the four corners of the Earth to catch their next eclipse--say that's enough time to change your life. Learn more from eclipse2017.org.