Where's Saturn? Is that a UFO--or the ISS? What's the name of that star? Get the answers from mySKY--a fun new astronomy helper from Meade.

HURTLING TOWARD MARS: Earth and Mars are rapidly converging. Relative speed: 22,000 mph. Contrary to rumor, Mars is not about to swell to the size of a full Moon, but there is something eerie and Martian to look for in the night sky next week: full story.

NEW SUNSPOT: New sunspot 969 "looks good," says Cai-Uso Wohler of Bispingen, Germany. His photo of the 'spot taken this morning through a Coronado SolarMax60 reveals a bushy magnetic filament emerging from the sunspot's dark core: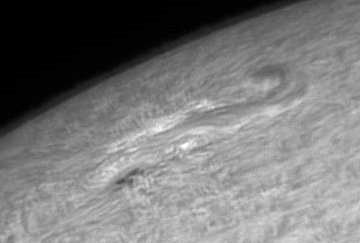 The region may become even more photogenic as it turns toward Earth in the days ahead--stay tuned!
more images: from Maxim Usatov of Dniepropetrovsk, Ukraine; from Pavol Rapavy of Rimavska Sobota, Slovakia.
SPRITE UPDATE: The 'carrot sprites' reported below may actually be a related phenomenon called 'gigantic jets,' according to physics professor Dave Sentman of the University of Alaska's Geophysical Institute. Gigantic jets are rare and these may be the first ever photographed over the United States.
CARROT SPRITES: You know what comes out of the bottom of a thundercloud: lightning. But do you know what comes out of the top? The answer is sprites. Sometimes when an especially fierce lightning bolt connects with the ground, a corresponding discharge leaps from the top of the cloud toward space. These "sprites" are red, fleeting, and they tend to come in bunches.
On Aug. 20th, Richard Smedley of Broken Arrow, Oklahoma, photographed a bunch of carrot-shaped sprites shooting from the top of a thunderstorm about 60 miles away: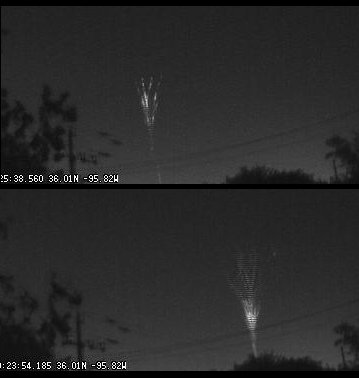 Smedley's video of the event is a must-see. "The first sprite video even shows the so-called 'elf' cloud," he says.
Although sprites have been seen, off and on, for at least a century, most scientists did not believe they existed until after 1989 when sprites were photographed by cameras onboard the space shuttle. Now "sprite chasers" routinely photograph sprites from their own backyards. Give it a try.