Where's Saturn? Is that a UFO--or the ISS? What's the name of that star? Get the answers from mySKY--a fun new astronomy helper from Meade.

DOUBLE FLYBYS: Space shuttle Endeavour undocked from the International Space Station on Sunday, Aug. 19, and the two spacecraft are now circling Earth in tandem. "So cool!" says Patrick Koske, who witnessed the pair orbit over Bishop, California. "They're both bright, and one of them (the ISS) has a distinct reddish color."

"My kids were especially amazed to see the double flyby this evening," adds Brian Klimowski of Flagstaff, Arizona. "It was fantastic!" Brian captured this 90s exposure using his Canon 5D at ISO 3200: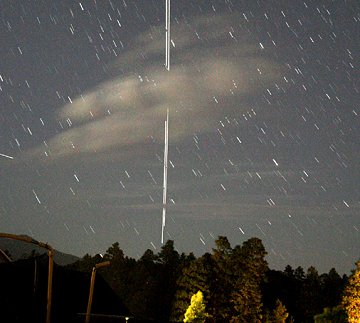 Tracks from local airplanes are visible in the larger image.
The show continues tonight. US cities favored for double flybys on Aug. 20th include Chicago, Denver and Detroit. Check Heavens Above to see if your hometown is due for a flyby, and sign up for Spaceweather PHONE to receive telephone and email alerts just before the spacecraft appear.
more images: from Phillip Chee of Peterborough, ON, Canada; a video from Kevin Fetter of Ontario, Canada (5 MB); from Donna of Chester, VT; from David Lerwis of Gaylordsville, CT; from Luca Rizzo of Marcellinara, Italy; from SergioC of Italy;
SUN HALOS: "I'm a fan of sun halos! And little by little, this passion has intrigued Lydia, my 7 year old daughter," says Laurent Laveder of Port Navalo, France. "Yesterday morning, I lent her my sunglasses to let her see a nice circumscribed halo. As I was in front of her, explaining her what she was observing I noticed the halo reflected in the glasses, took my camera and snapped."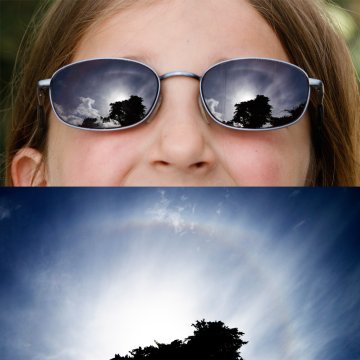 Click here to view more of Laurent's pictures.
"In the lower part of this picture, you can see a photo taken one minute later showing the halo itself. This picture has been left-right reversed to show the halo as its reflection in the glasses."
Photo details: Canon 30D + Sigma 70-300 lens at 70mm (for the portrait) and Sigma 10-20 lens at 10mm (for the halo).
---
2007 Perseid Meteor Gallery
Updated Aug. 14, 2007