| | | |
| --- | --- | --- |
| NEW AND IMPROVED: Turn your iPhone or iPod Touch into a field-tested global satellite tracker. The Satellite Flybys app now works in all countries. | | |
SUMMER SOLSTICE: Monday, June 21st, is the longest day of the year in the northern hemisphere. Northern summer begins at 11:28 UT (7:28 EDT) when the sun reaches its highest point on the celestial sphere; southern winter begins at precisely the same moment. No matter where you live, Happy Solstice!
FATHER'S DAY BLAST: Consider it a Father's Day gift ... from the sun. This morning around 1 a.m. UT, magnetic fields on the sun's eastern limb became unstable and erupted, producing one of the most spectacular explosions of the year. NASA's Solar Dynamics Observatory recorded the action: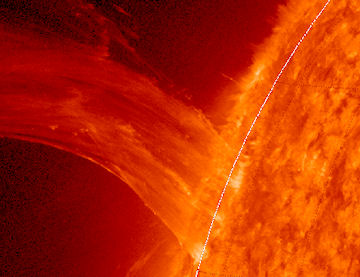 Click to play a 1.6 MB mpeg movie
The explosion did not cause a solar flare (a flash of electromagnetic radiation) but it did hurl a massive cloud of magnetized plasma into space: SOHO movie. Because of the blast site's location on the eastern limb, the cloud will not hit Earth. There won't be any geomagnetic storms or auroras. Future eruptions, however, could have greater effect.
more sun-shots: from Alan Friedman of Buffalo, NY; from Les Marczi of Welland, Ontario, Canada; from Larry Alvarez of Flower Mound, Texas; from Michael Buxton of Ocean Beach, California; from Roger Williams of Kalamazoo, Michigan; from Robert Arnold of Isle of Skye, Scotland; from Cai-Uso Wohler of Bispingen, Germany; from Peter Desypris of Island of Syros Greece;
COMET McNAUGHT (C/2009 R1): Comet McNaught is approaching the sun, which makes the comet bright, but also difficult to see. "I had only a 15 minute view before the sky started to get light this morning," reports Parks Squyres, who sends this picture from SaddleBrooke, AZ: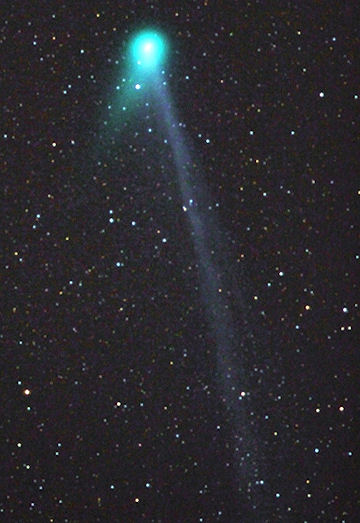 The comet will continue to brighten as it swings by the sun. Unfortunately, though, after perihelion (closest approach to the sun) on July 2nd, the comet will not only recede from the sun but also from Earth. The final mornings of June could offer our last good look at this blue-green apparition from the outer solar system. More information and a sky map are available from Sky and Telescope. See also: ephemeris, 3D orbit.
more images: from Michael Jäger of Reiteralm, Austria; from Babak Tafreshi of Alborz Mountains, Iran; from Andrea Aletti of G.V. Schiaparelli Astronomical Observatory, Italy; from Dr Paolo Candy of Ci.A.O. Cimini Astronomical Observatory, Italy; from Paul Kinzer of Galesville, Wisconsin; from Gianni Fardelli of Ascoli Piceno, Italy;
---
May 2010 Aurora Gallery
[previous Mays: 2008, 2005, 2004, 2003, 2002] [aurora alerts]