| | | |
| --- | --- | --- |
| NEW AND IMPROVED: Turn your iPhone or iPod Touch into a field-tested global satellite tracker. The Satellite Flybys app now works in all countries. | | |
NLCs SIGHTED IN MONTANA: "Last night, I was going to bed about 11:00 p.m. and took a look out the window. The noctilucent clouds were just bright enough to catch my eye," reports Larry Anderson of Dillon, Montana. "Finally, some NLCs in North America!"
June 19th NLC photos: from Peter McCabe of Dundalk,Co.Louth, Ireland; from Martin McKenna of Maghera, Co. Derry, N.Ireland
FARSIDE BLAST: During the early hours of June 19th, the Solar and Heliospheric Observatory observed a bright coronal mass ejection (CME) emerging from the sun's northwestern limb. Click on the image to set the cloud in motion: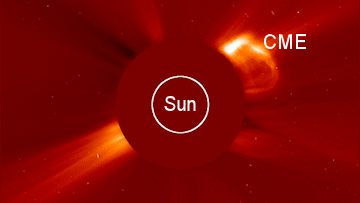 Nothing exploded on the visible face of the sun, so where did this CME come from? Answer: AR1081. Stationed over the sun's western limb, NASA's STEREO-Ahead spacecraft witnessed the blast: movie. It came from the vicinity of sunspot 1081, the same active region that produced several potent C- and M-class flares one week ago. AR1081 is now transiting the sun's far side, invisible from Earth, but it will turn back in our direction 8 to 10 days from now. Will it still be active then? Stay tuned!
UPDATE: The Solar Dynamics Observatory also recorded an amazing movie of the eruption rising over the sun's northwestern limb: play it.
more sun-shots: from Robert Arnold of Isle of Skye, Scotland; from Cai-Uso Wohler of Bispingen, Germany; from Peter Desypris of Island of Syros Greece
COMET McNAUGHT (C/2009 R1): Comet McNaught is approaching the sun, which makes the comet bright, but also difficult to see. "I had only a 15 minute view before the sky started to get light this morning," reports Parks Squyres, who sends this picture from SaddleBrooke, AZ: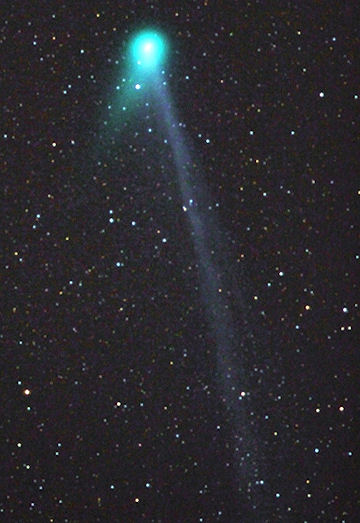 The comet will continue to brighten as it swings by the sun. Unfortunately, though, after perihelion (closest approach to the sun) on July 2nd, the comet will not only recede from the sun but also from Earth. The final mornings of June could offer our last good look at this blue-green apparition from the outer solar system. More information and a sky map are available from Sky and Telescope. See also: ephemeris, 3D orbit.
more images: from Dr Paolo Candy of Ci.A.O. Cimini Astronomical Observatory - Italy; from Paul Kinzer of Galesville, Wisconsin; from Gianni Fardelli of Ascoli Piceno, Italy
---
May 2010 Aurora Gallery
[previous Mays: 2008, 2005, 2004, 2003, 2002] [aurora alerts]