SPACE SHUTTLE PIGGY-BACK: Right now in California, space shuttle Discovery is being hoisted atop a specially modified 747 aircraft for a piggy-back ride back to the Kennedy Space Center in Florida. NASA managers are checking weather forecasts to determine the best cross-country route and time of departure. Sky watchers across the southern United States may be able to see the pair in flight--probably early next week. Check nasa.gov for updates.
RENDEZVOUS IN SPACE: Japan's new HTV-1 cargo carrier arrived at the International Space Station on Thursday, Sept. 17th, and was attached at 6:26 p.m. EDT by the station's robotic arm. Just before docking, the two spacecraft flew over the Netherlands where Ralf Vandebergh recorded their convergence: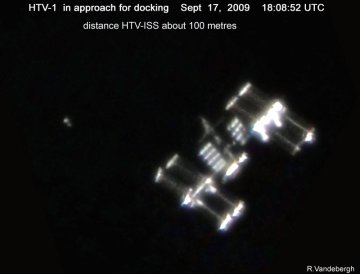 "What luck," he says. "The weather was clear and the HTV-1 was only 100 meters from the ISS. They were perfectly-spaced to fit in the field of view of my 10-inch telescope."
Launched Sept. 10th from the Tanegashima Space Center in Japan, the HTV is carrying about five tons of supplies to the station on its maiden voyage.
more images: from Janusz Krysiak of Koluszki, Poland; from Michał Nyklewicz of Poland; from Dirk Ewers of Hombressen, Germany
AUTUMN SUNRISE: Morning fog is a sign of autumn. The weeks of late September and early October often bring banks of fog to the countryside, where moist ground has spent the lengthening night cooling under a cloudless, starry sky. The combination of cool air and low fog can produce some interesting vistas: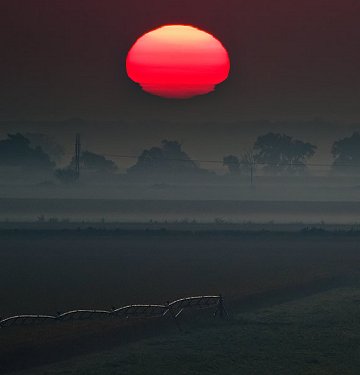 Mike Hollingshead of Blair, Nebraska, took the picture at daybreak on Sept. 16th. "A few mornings ago, I noticed how red the sun appeared when it rose through the fog," he says. "I wanted more--and yesterday I got it." The sun was not only reddened but also miraged by a temperature inversion in the air above the chilly field.
"These foggy mornings produce some nice photo-ops," he says. "You just need a bit of a hill to shoot from to see the mirage, but not too high because you want to shoot through the fog to get the vibrant red stuff."
Photographers, set your alarm for sunrise. And hurry. The fog won't wait forever.
---
UPDATED: Sept. 2009 Aurora Gallery
[previous Septembers: 2008, 2007, 2006, 2005, 2004, 2002, 2001]
---