VENUS HAS A SIDEKICK: Look east just before dawn on Sunday morning, Sept. 20th. There's Venus, as usual, shining through the rosy glow of sunrise. A pair of binoculars trained on Venus reveals a temporary sidekick: 1st-magnitude star Regulus less than 0.5o away. Don't miss it: sky map.
APPROACHING SUNSPOT: NASA's STEREO-B spacecraft stationed over the sun's eastern limb is monitoring an active region not yet visible from Earth. STEREO's extreme ultraviolet telescope captured this image on Sept. 19th: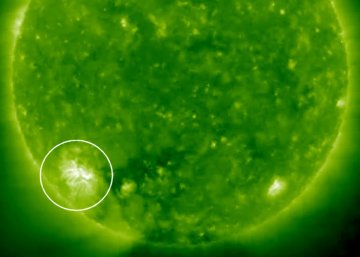 The tangle of hot, magnetized plasma circled above almost certainly overlies a large new-cycle sunspot. We'll soon find out. The sun's rotation is turning the active region toward Earth and it could pop over the sun's eastern limb as early as Sept. 21st. Readers with solar telescopes are encouraged to monitor developments.
FOGBOW SEASON: Northern autumn is beginning and that means it's fogbow season. The weeks of late September and early October often bring banks of fog to the countryside, where moist ground has spent the night cooling under a cloudless, starry sky. When the sun comes up, warms the ground, and sunlight hits the rising mist--voila!--a fogbow: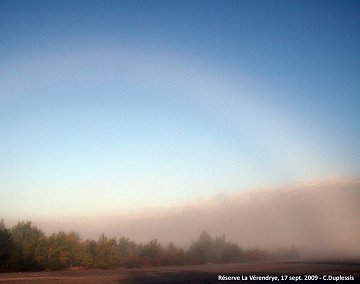 Claude Duplessis took the picture at daybreak on Sept. 17th. "I spent the night in La Vérendrye Wildlife Reserve in Québec," he says. "In the morning, as I prepared to leave, this white 'bow popped out of the mist."
Fogbows are close cousins of rainbows. The difference is droplet size. Rainbows appear when sunlight bounces in and out of large raindrops. The same type of reflection produces a fogbow, except fog droplets are much smaller. Small droplets don't separate the colors of sunlight as widely as large raindrops do. In a fogbow, therefore, the colors are smeared together, producing a ghostly-white arc.
To see a fogbow on a misty autumn morning, face away from the rising sun and look into the fog. The lower the sun, the higher the arc, so wake up early for best results!
more images: from Daryl Pederson of Prince William Sound, Alaska; from Tyler Burg of Pisgah, Iowa; from Ákos Ujj of Bátonyterenye, Hungary;
---
Sept. 2009 Aurora Gallery
[previous Septembers: 2008, 2007, 2006, 2005, 2004, 2002, 2001]
---