CONVERGING SPACESHIPS: Japan's HTV-1 cargo carrier is approaching the International Space Station (ISS) for docking on Thursday, Sept. 17th. The docking procedure, which requires the station's robotic arm to reach out and grab the HTV-1, begins at 3:50 pm EDT. HTV-1 is as bright as a first-magnitude star, so it should be easy to see beside the much larger ISS. Check the Simple Satellite Tracker for flybys.
NORTHERN LIGHTS: The long, bright Arctic summer is coming to an end, and that means it's time to watch out for Northern Lights. On Sept. 15th, photographer Bud Kuenzli caught these auroras arcing over North Pole, Alaska: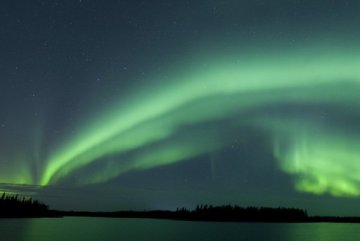 The display was sparked by a mild gust of solar wind. At this time of year, a mild gust is all it takes. The weeks around equinoxes are prime time for Northern Lights. As summer turns into autumn, the interplanetary magnetic field (IMF) near Earth tends to tilt south, an orientation that weakens our planet's magnetic defenses against the solar wind. The slightest gust can produce a lovely show.
Polar sky watchers should be alert for auroras in the weeks ahead.
UPDATED: Sept. 2009 Aurora Gallery
[previous Septembers: 2008, 2007, 2006, 2005, 2004, 2002, 2001]
AUTUMN SUNRISE: Morning fog is a sign of autumn. The weeks of late September and early October often bring banks of fog to the countryside, where moist ground has spent the lengthening night cooling under a cloudless, starry sky. The combination of cool air and low fog can produce some interesting vistas: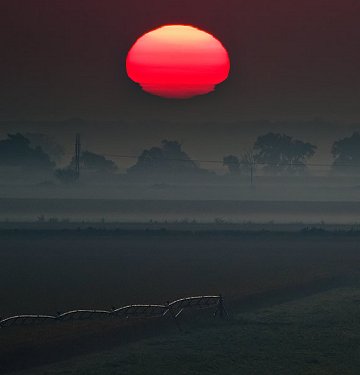 Mike Hollingshead of Blair, Nebraska, took the picture at daybreak on Sept. 16th. "A few mornings ago, I noticed how red the sun appeared when it rose through the fog," he says. "I wanted more--and yesterday I got it." The sun was not only reddened but also miraged by a temperature inversion in the air above the chilly field.
"These foggy mornings produce some nice photo-ops," he says. "You just need a bit of a hill to shoot from to see the mirage, but not too high because you want to shoot through the fog to get the vibrant red stuff."
Photographers, set your alarm for sunrise. And hurry. The fog won't wait forever.
---