Where's Saturn? Is that a UFO--or the ISS? What's the name of that star? Get the answers from mySKY--a fun new astronomy helper from Meade.

ALIEN SKIES: Do you love gazing at a starry night sky? Nothing you've ever seen on Earth could prepare you for the fantastic skies of some "orphan stars" just discovered by astronomers using NASA's Chandra X-ray Observatory: full story.

SOLAR WIND: Today's x-ray image of the sun from Japan's Hinode spacecraft reveals a large triangular hole in the sun's atmosphere: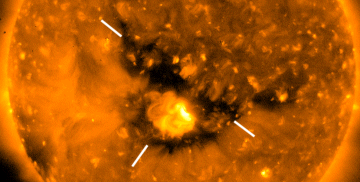 A solar wind stream flowing from this "coronal hole" will soon reach Earth and the impact could trigger a geomagnetic storm. High-latitude sky watchers should be alert for auroras on Oct. 18th and 19th.
October 2007 Aurora Gallery
[September Gallery] [Aurora Alerts]
BRIGHTENING COMET: Comet LONEOS (C/2007 F1) is brightening. "Last night I saw it with the naked eye," reports Martin McKenna of Maghera, Co. Derry, N. Ireland. It wasn't very bright--"just 6th magnitude"--but definitely there. He made this sketch peering through his 8-inch telescope. "The comet sported a beautiful green coma with a blue ion tail."
Tonight, Oct. 17th, is a good night to find Comet LONEOS as it glides by the 3rd magnitude star Muphrid in the constellation Bootes. Let Muphrid be your guide! The time to look is immediately after sundown. LONEOS is near the horizon and sets not long after darkness falls: sky map, ephemeris.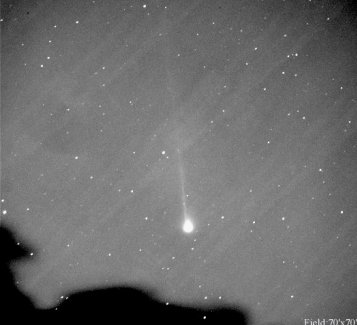 Above: Comet LONEOS on Oct. 16th, a one-minute exposure through a 4-inch refracting telescope. Credit: Tibor Horvath of Hegyhatsal, Hungary.
Comet LONEOS is brightening because it is falling toward the sun. At closest approach on Oct. 29th it will be just outside the orbit of Mercury. How bright will LONEOS become? Experts estimate 4th magnitude--not a Great Comet but still a nice target for backyard telescopes. Stay tuned for updates!