Where's Saturn? Is that a UFO--or the ISS? What's the name of that star? Get the answers from mySKY--a fun new astronomy helper from Meade.

ALIEN SKIES: Do you love gazing at a starry night sky? Nothing you've ever seen on Earth could prepare you for the fantastic skies of some "orphan stars" just discovered by astronomers using NASA's Chandra X-ray Observatory: full story.

SOLAR WIND: Today's x-ray image of the sun from Japan's Hinode spacecraft reveals a large triangular hole in the sun's atmosphere: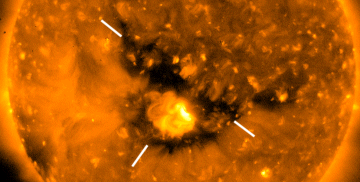 A solar wind stream flowing from this "coronal hole" will soon reach Earth and the impact could trigger a geomagnetic storm. High-latitude sky watchers should be alert for auroras on Oct. 18th and 19th.
October 2007 Aurora Gallery
[September Gallery] [Aurora Alerts]
WEIRD ORIONIDS: "I've never seen anything like it," says veteran sky watcher Doug Zubenel. Last week on October 10th he was at the Okie-Tex star party when a handful of Orionid meteors raced across the sky one after another, all in a row: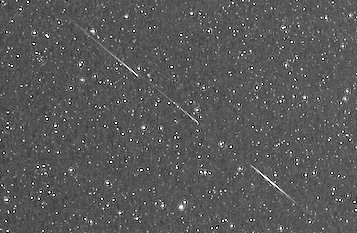 And then it happened again. And again! "All of these meteors traveled nearly the exact same path through the sky," he says. In total, he captured 16 follow-the-leader meteors in a series of seven exposures spanning 70 minutes: #1, #2, #3, #4, #5, #6.
Orionid meteors are specks of dusty debris from Halley's Comet. Zubenel seems to have witnessed a collimated train of Halley-dust. Trains of space debris are not unprecedented--witness this crater chain on the Moon--but long trains of single file meteors are a rare sight indeed.
Be alert for more: Earth is just beginning its annual plunge into Halley's debris stream. The ongoing Orionid shower (so-called because the meteors stream out of the constellation Orion) peaks on Sunday, Oct. 21st, when sky watchers can expect to count 20 to 50 meteors per hour. But how many in a row? There's only one way to find out: sky map.