Where's Saturn? Is that a UFO--or the ISS? What's the name of that star? Get the answers from mySKY--a fun new astronomy helper from Meade.

AURORA WATCH: A solar wind stream is heading for Earth and it could spark geomagnetic storms when it arrives on Oct. 18th or 19th. High-latitude sky watchers, be alert for auroras.

EARLY ORIONIDS: On Oct. 15th, a bright meteor raced out of the constellation Orion over Ozark, Arkansas, where photographer Brian Emfinger caught it in mid-flight: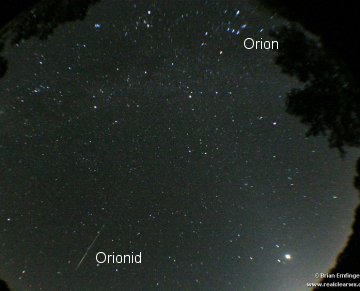 Photo details: Canon Digital Rebel XT, fisheye lens, ISO 1600, F3.5, 30 secs
That streak of light is very likely a piece of Halley's Comet. Every year in October, Earth passes through a stream of Halley's dusty debris, giving rise to the Orionid meteor shower. This year, the display is expected to peak on Oct. 21st, but some of the meteors may be arriving early. "My camera captured three more Orionids on Oct. 13th," says Emfinger, while Doug Zubenel reports seeing at least ten Orionids from the 24th annual Okie-Tex Star Party on Oct. 10th.
Do early Orionids bode well for peak-night? There's one way to find out: Watch the sky during the dark hours before sunrise on Sunday, Oct. 21st. If 2007 is like 2006, observers can expect 20 to 50 Orionids per hour: sky map.
BLUE SUNRISE: Amateur astronomer Jan Lameer has been in the French Alps lately photographing Comet LONEOS. On Oct. 12th, he witnessed something that took his mind off comets: "The sun was rising over the top of Mont Viso and for a moment it appeared to be blue!"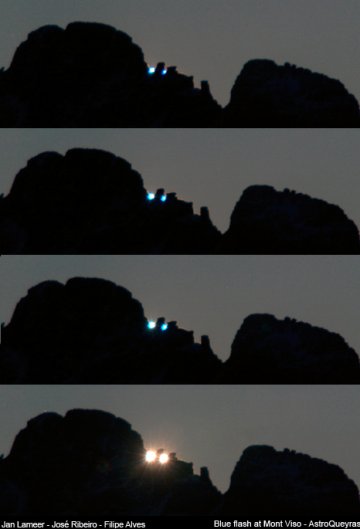 Photo details: Nikon D1H, 200 ISO, 600mm telephoto lens
"This is a very rare blue solar rim," says atmospheric optics expert Les Cowley.
Most readers have heard of a green rim. "From ground level, the rising or setting sun has an upper green rim because our lens-like atmosphere bends green light more than red. It is usually too thin to see and must be magnified by a mirage to make a green flash."
Blue is bent even more than green, but we don't often see the sun's blue rim because it is wiped out by atmospheric scattering--in other words, it is blended into blue sky.
So why did this blue rim show itself to Jan Lameer? "Three effects conspired to produce the blue rim," explains Cowley. "First, the 15 km distant mountain ridge screened off the sun's disk letting Jan, for a few moments, see only its colored rim. Second, winds blowing across the ridge might have generated a small air density gradient to help spread the colors. Finally, the exceptionally clear mountain air let through the blue-green rays normally scattered away by the lower atmosphere, allowing him to see a beautiful blue-green diamond flare."
"I've seen the blue flash at the mountain peak for three mornings in succession this week," says Lameer. "We have very clear weather at the moment." Oh, to be in the Alps!
more images: from Robert Wagner at the Observatorio del Roque de los Muchachos, Canary Island of La Palma, Spain; from Alfredo Garcia Jr of Hermosa Beach, California; from Maxime Spano of La Palma Observatory, Spain.