IN SEARCH OF DARK ASTEROIDS: NASA is set to launch a sensitive new infrared space telescope to search for dark asteroids that could pose a threat to Earth. Get the full story from Science@NASA.
FARSIDE SUNSPOT: A big sunspot appears to be growing on the far side of the sun. Yesterday, the National Solar Observatory's GONG network detected helioseismic echoes from the sunspot's gathering magnetic field. Today, NASA's STEREO-B spacecraft is beaming back images of an active region peeking over the sun's far-eastern limb--exactly where GONG data predicted it would be: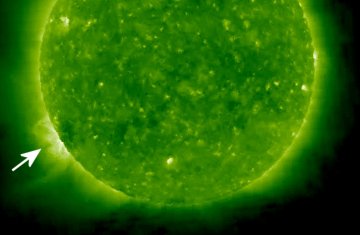 Photo credit: STEREO-B Extreme UV Telescope
Irene Gonzalez-Hernandez, a solar physicist working on the GONG project, says "I believe this is a large active region belonging to new Solar Cycle 24. The sun's rotation should turn it toward Earth for direct viewing on Sept. 20th."
Until then, the sunspot number remains pegged at zero. Why? Because farside sunspots do not count. Back in the 19th century when the sunspot number was invented, astronomers had no way of monitoring events on the farside of the sun, so no provision was made for adding farside spots to the total. Fast forward to 2009: NASA has two spacecraft (STEREO-A and -B) maneuvering for a 360o view of the entire sun, and by the year 2011 no sunspot will escape their detection. A more modern way of counting sunspots may soon be required.
Readers, if you have a solar telescope, monitor the eastern limb for coming attractions.
MORNING SHOW: Around the world, today, early risers witnessed a beautiful sunrise display when Venus and the Moon rose side-by-side in the eastern sky just ahead of the sun. Azhy Chato Hasan sends this snapshot from Erbil city in the Kurdistan region of Iraq: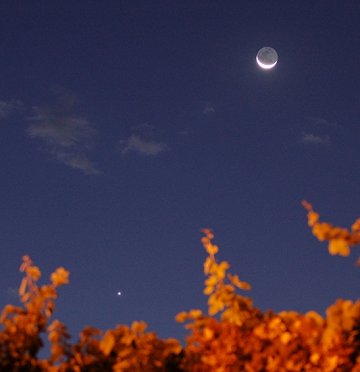 Photo details: Nikon D50, 70-300mm,f/5, 1 sec, 800 ISO
"The weather was perfect--no wind or dust, and very few clouds," says Hasan. "I found myself in the middle of a very quiet, tree-lined street and took the picture using my Nikon D50 digital camera. It was a bright and beautiful display."
more images: from Tamas Ladanyi of Veszprem (Hungary); from Michel Renaud of Boisbriand, Quebec, Canada; from Yuichi Takasaka of Yellowknife, Northwest Territories, Canada; from Zlatko Pasko of Stara Pazova, Serbia; from Adrian New of San Antonio, Texas; from P-M Hedén of Vallentuna, Sweden; from Mike Evans of San Diego, California; from Alan Dyer of Gleichen, Alberta, Canada; from Mike Rosset of Jacksonville, Florida; from John Elliott of Bellevue, Washington; from Martin Mc Kenna of Maghera, N. Ireland
---
Sept. 2009 Aurora Gallery
[previous Septembers: 2008, 2007, 2006, 2005, 2004, 2002, 2001]
---