Where's Saturn? Is that a UFO--or the ISS? What's the name of that star? Get the answers from mySKY--a fun new astronomy helper from Meade.

GREAT PERSEIDS: The Perseid meteor shower is coming, and experts say it should be a great show. Get the full story from Science@NASA.

SUNSET SKY SHOW: Want to know what tonight's sunset will look like? Take this photo, and shift the Moon about three inches to the left: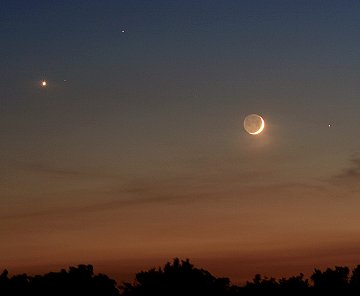 Photo details: Canon Rebel XTi, 85mm lens @ f/4, 60 sec exposure, ISO 100.
Doug Zubenel of DeSoto, Kansas, took the picture yesterday, July 16th. It features the Moon, Saturn, Venus, Regulus and "don't forget 31 Leonis," he points out. Twenty-four hours later, the Moon has shifted to form a new ensemble. Will it be as pretty as last night's? Take a look: sky map.
more images: from Oscar Blanco and Borja Tosar at Riazor Beach, La Coruna, Spain; from Mike Salway of Central Coast, NSW, Australia; from David Hough of Wallsend, NSW, Australia; from Zhen Jie of Singapore; from Mohammad Javad Fahimi of Kerman,Iran; from Hanif Shoaei of Tehran, Iran; from Pavol Rapavy of Rimavska Sobota, Slovakia; from Richard McCoy of Mead, CO; from Alan Friedman on the banks of the Niagra River, NY; from Imelda Joson and Edwin Aguirre at Annisquam Lighthouse, MA; from Tunç Tezel near Bolu, Turkey; from Todd Hargis of Austin, TX; from Boris Stromar of Zagreb, Croatia; from Elias Chasiotis of Markopoulo, Greece; from Serdar Hepgul of Istanbul, Turkey; from Neil Kad of Burlington, VT;
NLCs INVADE PENNSYLVANIA: "I was walking out to my car around 9:30 p.m. on July 15th when I looked up and saw a creepy noctilucent cloud," says Jeffrey Berkes. He dashed back inside, grabbed a camera and clicked: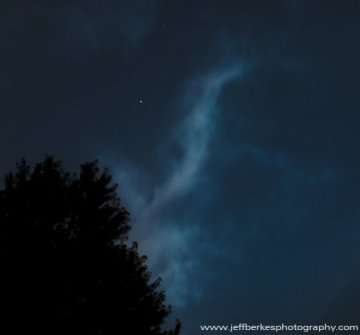 This is a perfectly ordinary "nightshining" cloud. What's interesting about it is its location: "I live in West Chester, Pennsylvania," says Berkes. Normally, noctilucent clouds inhabit high latitudes--Alaska, Canada, Scandinavia. But every year in mid-to-late summer they begin to creep south. "This is my second sighting in mid-July," he says. In recent years the clouds have descended as far as Utah, Colorado and possibly even Virginia. Wherever you live, watch the western sky one to two hours after sunset. If you see electric blue tendrils spreading up from the horizon, you may have spotted a noctilucent cloud.
.2007 Noctilucent Cloud Gallery
[Night-Sky Cameras] ["Noctilucent Cloud"--the song]