Where's Saturn? Is that a UFO--or the ISS? What's the name of that star? Get the answers from mySKY--a fun new astronomy helper from Meade.

CELESTIAL GATHERING: When the sun goes down tonight step outside and look west. You'll see Venus, Saturn and the bright star Regulus forming a triangle with the crescent Moon inside. A backyard telescope pointed at Venus reveals it to be a crescent, too, almost as slender as the Moon. Take a look: sky map.

images: from John Hacker of Carl Junction, Missouri; from Michael Bromley in the Sahara Desert east of Dahra, Libya.

WEEKEND AURORAS: On Saturday night, July 14th, Tony Wilder of Chippewa Falls, Wisconsin, thought he saw a hint of green in the northern sky. He wasn't imagining things. A 28-second exposure with his Canon 30D (ISO 1600) revealed a beautiful curtain of aurora borealis over nearby Lake Wissota: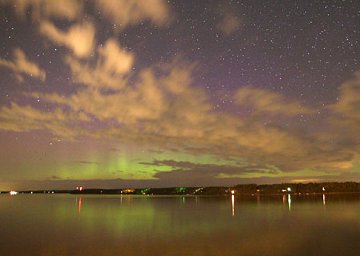 "What a treat to see the Northern Lights again," he says. "The sky was glowing mildly until 1 o'clock in the morning when clouds blocked my view."
The cause of the display was a solar wind stream hitting Earth and shaking our planet's magnetic field. The reverberations registered 6 on the 0-to-9 K-index scale of geomagnetic storms and produced auroras over both ends of our planet. While Tony Wilder was snapping pictures in Wisconsin, scientist Chantal Steyn took this picture from Queen Maud Land, Antarctica. "We waited almost a month for some auroras, and finally!" she says. Visit the gallery for more.
LOOKING AHEAD: Another solar wind stream is due on July 20th. High latitude sky watchers should be alert for auroras.
RED-TAILED COMET: "The atmosphere of Comet LINEAR VZ13 is green," reports Italian astronomer Paolo Candy, "but its jet tail is red." He took this picture, a 14-minute exposure through an 8-inch telescope, on July 15th: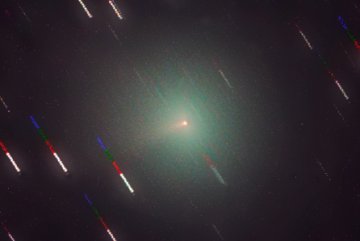 The green tint comes from gaseous cyanogen and diatomic carbon in the comet's atmosphere. Both substances glow green when exposed to sunlight in the near-vacuum of space. The origin of red in the tail is less certain. The tail is essentially a jet of dust spewing out of the comet's nucleus. Normally, cometery dust tails are yellow-white, the color of reflected sunlight. But the material in this tail seems to reflect a little extra red--much like another notable red-tailed comet.
Amateur astronomers, this 8th-magnitude comet is an easy target for backyard telescopes. Look for it after sunset near the handle of the Big Dipper: sky map. [ephemeris] [3D orbit]
more images: from Frank Freestar8n of Hudson Valley, NY.
---