Where's Saturn? Is that a UFO--or the ISS? What's the name of that star? Get the answers from mySKY--a fun new astronomy helper from Meade.

PROMINENCE ALERT: "This morning I saw a huge prominence at the southeastern limb of the sun," reports Cai-Uso Wohler of Bispingen, Germany. He took this picture using his Coronado SolarMax60. "I hope this means that there is another active sunspot coming around soon," he says. Stay tuned for updates.

more images: from P-M Hedén of Vallentuna, Sweden

CORONAL HOLE: There's a big hole in the sun's atmosphere today. It's the irregular dark region in this x-ray photo taken by Japan's Hinode satellite: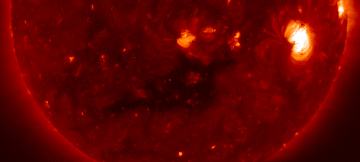 Astronomers call it a coronal hole--a vast zone where the solar magnetic field opens up and allows hot gas to escape from the sun's corona. A stream of solar wind flowing from this coronal hole will reach Earth on or about July 20th. High-latitude sky watchers should be alert for auroras when it arrives. (Note: Earlier today, the estimated date of arrival was misprinted as June 20th. The correct date is July 20th.)
NLCs INVADE PENNSYLVANIA: "I was walking out to my car around 9:30 p.m. on July 15th when I looked up and saw a creepy noctilucent cloud," says Jeffrey Berkes. He dashed back inside, grabbed a camera and clicked: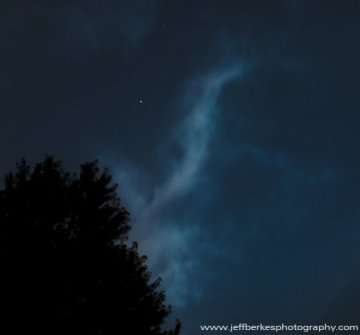 This is a perfectly ordinary "nightshining" cloud. What's interesting about it is its location: "I live in West Chester, Pennsylvania," says Berkes. Normally, noctilucent clouds inhabit high latitudes--Alaska, Canada, Scandinavia. But every year in mid-to-late summer they begin to creep south. "This is my second sighting in mid-July," he says. In recent years the clouds have descended as far as Utah, Colorado and possibly even Virginia. Wherever you live, watch the western sky one to two hours after sunset. If you see electric blue tendrils spreading up from the horizon, you may have spotted a noctilucent cloud.
.2007 Noctilucent Cloud Gallery
[Night-Sky Cameras] ["Noctilucent Cloud"--the song]