| | | |
| --- | --- | --- |
| Where's Saturn? Is that a UFO--or the ISS? What's the name of that star? Get the answers from mySKY--a fun new astronomy helper from Meade. | | |
STRANGE HAPPENINGS ON THE MOON: NASA-supported researchers have realized that strange things may be happening on the full Moon when it gets hit by Earth's magnetic tail. Get the full story from Science@NASA.
BIG SPACESHIP: The International Space Station is growing. In the past six months alone, astronauts have unfurled 230-ft solar wings, added a 30,000-lb docking port (Harmony), installed a 28,000-lb science lab (Columbus) and, while they were at it, a European robot ship (Jules Verne) flew up to the ISS and docked itself. It all adds up to a spaceship so big and bright it fills the eyepiece of a backyard telescope: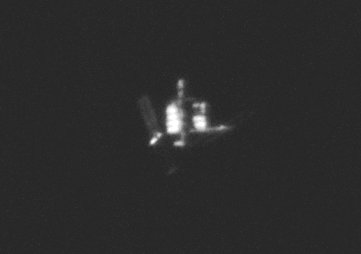 Bret Dahl took this picture on April 13th from Plano, Texas. "I used a 10-inch Meade LX200, hand guided," he says. "The ISS has made several nice passes over our area in the last week. In the photo, the space station was about 50 degrees above the horizon. It is amazing how bright the ISS has become even at such a low angle."
A new round of flybys over North American begins in early May. Stay tuned for details.
more images: from Ralf Vandebergh of the Netherlands; from Bill Westphal of Altadena, CA; from Mike Snyder of Cedar Rapids, IA; from Don Lawrence of Sugar Land, Texas; from Robbie Merrill of Fort Collins, CO;
LE RAYON VERT: "After observing a nice sunset on April 15th, I watched the last sliver of Sun sink below the horizon and was amazed as it briefly turned green!" reports Alex Lloyd-Ribeiro of Durham, England. He took these pictures using his Canon 350D on maximum zoom: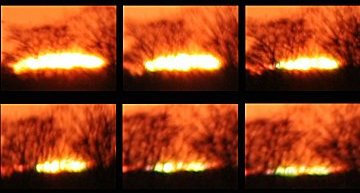 Green flashes are caused by a combination of refraction and mirage-action in Earth's atmosphere. They are best seen over a clear ocean horizon, but Lloyd-Ribeiro's photo shows they can appear as well behind trees and hills.
There was a time when green flashes were thought to be fables. Jules Verne popularized their reality in his 1882 novel "Le Rayon Vert" (The Green Ray). He described "a green which no artist could ever obtain on his palette, a green of which neither the varied tints of vegetation nor the shades of the most limpid sea could ever produce the like! If there is a green in Paradise, it cannot be but of this shade, which most surely is the true green of Hope."
The Durham green flash of April 15th may not have been the most dramatic, but it does remind us to be alert for Le Rayon Vert.
more images: from Richard Watson of Gold Beach Oregon; from Alfredo Garcia Jr of Hermosa Beach, CA; from Karen Harris of Waianae, Oahu, Hawaii; from Mila Zinkova of San Francisco, California;
---
April 2008 Aurora Gallery
[Aurora Alerts] [Night-sky Cameras]