| | | |
| --- | --- | --- |
| Where's Saturn? Is that a UFO--or the ISS? What's the name of that star? Get the answers from mySKY--a fun new astronomy helper from Meade. | | |
MERCURY AT NOON: Don't look! Today, Mercury is passing just a fraction of a degree from the sun. Bright sunlight hides the conjunction from human eyes; it would literally hurt to look. But the Solar and Heliospheric Observatory, using coronagraphs to block the sun's glare, is able to monitor the passage: image. Join SOHO for a ringside seat.
SOLAR FLARE: Amateur astronomers monitoring the decay of sunspot 990 have just witnessed a bright B2-class solar flare. "It was a beautiful explosion" says Patricia Cannaerts who sends this snapshot from Belgium:
"Sunspot 990 is still active," agrees Cai-Uso Wohler of Bispingen, Germany, who caught the same blast through his Coronado SolarMax60: image. It is remarkable that a sunspot so badly decayed is capable of producing such activity. Monitoring is encouraged.
more images: from Pete Lawrence of Selsey, West Sussex, UK; from Malcolm Park of London, England, UK; from J. Fairfull and J. Stetson of South Portland, Maine; from Stephen Ames of Hodgenville, KY; from Jan Timmermans of Valkenswaard, The Netherlands;
LUNAR X: It's such a familiar sight, we often forget there's an alien world in our own backyard: the Moon. It's there tonight, almost full. Scan the Moon with an ordinary pair of binoculars or a small telescope and you will observe a fantastic landscape of lava seas, ancient craters, deep valleys and towering mountains.
And don't forget the Lunar X: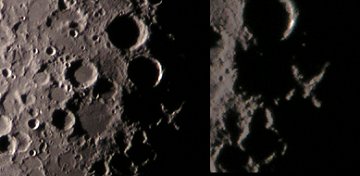 Amateur astronomer Dennis Fell of Wetaskiwin, Alberta, took this picture on April 12th. "It was an excellent night for binocular viewing," he says. "The 'X' was very pronounced."
Once a month when the sun rises over Crater Werner in the Moon's southern hemisphere, sunlight floods the region's high terrain and makes an X. The effect lasts only about two hours so careful timing and a little luck is required to catch it. "Observing the 'X' has little or no scientific value. It is a trick of the light. But the effect is striking, and it is exciting to rediscover each month," writes David Chapman in "A Fleeting Vision near Crater Werner" (Journal of the Royal Astronomical Society of Canada, Vol. 101, Issue 2, p.51).
The next viewing opportunity occurs May 12, 2008, around 1530 UT. Mark your calendar with an X.
more X-images: from Jeff Barton of Comanche Springs Astronomy Campus, Three Rivers Foundation for the Arts & Sciences, near Crowell, Texas; from Enrique Luque Cervigón of Alcalá de Henares, Madrid, Spain; from Tom Faller of Newnan, GA;
---
April 2008 Aurora Gallery
[Aurora Alerts] [Night-sky Cameras]