| | | |
| --- | --- | --- |
| Where's Saturn? Is that a UFO--or the ISS? What's the name of that star? Get the answers from mySKY--a fun new astronomy helper from Meade. | | |
STRANGE HAPPENINGS ON THE MOON: NASA-supported researchers have realized that strange things may be happening on the full Moon when it gets hit by Earth's magnetic tail. Get the full story from Science@NASA.
GREEN RIM: On April 16th, when the sun rose over Borken Germany, it emerged from the horizon green first. Günther Strauch trained his Canon 20D on the verdant edge and took this picture: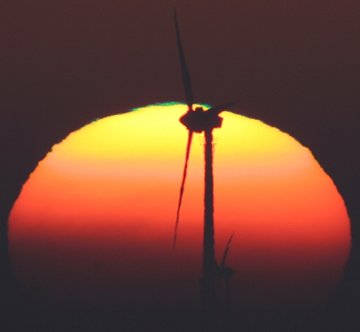 Photo details: Vixen refractor, Canon EOS 20D, 100 ASA, 1/1000 second.
What would make the edge of the sun turn green? All that's needed is a giant refracting lens. Earth's atmosphere is such a lens. Density gradients in the lower atmosphere bend light near the horizon, green more so than red: diagram. The green sun rises a little sooner than its red counterpart, hence the green rim.
Green rims require a telescope or zoom lens to see; they are invisible to the unaided eye. Sometimes, however, strong gradients in the atmosphere magnify the green rim to produce a startling green flash, visible, unforgettable, and no telescope required: gallery.
EXTRA: Atmospheric optics expert Les Cowley says there might be a hint of green flash in Strauch's green rim: "The photo shows evidence of some atmospheric temperature layering. The disk is distorted in zones corresponding to large differences in optical extinction and there are also some micro ripples. It is possible therefore that the green has at least some component of a mock-mirage flash."
more images: from Doug Zubenel of Kansas City, Missouri; from Enrique Luque Cervigón of Alcalá de Henares, Madrid, Spain.
BIG SPACESHIP: The International Space Station is growing. In the past six months alone, astronauts have unfurled 230-ft solar wings, added a 30,000-lb docking port (Harmony), installed a 28,000-lb science lab (Columbus) and, while they were at it, a European robot ship (Jules Verne) flew up to the ISS and docked itself. It all adds up to a spaceship so big and bright it fills the eyepiece of a backyard telescope: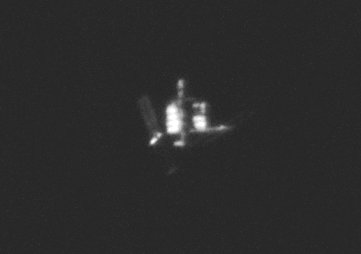 Bret Dahl took this picture on April 13th from Plano, Texas. "I used a 10-inch Meade LX200, hand guided," he says. "The ISS has made several nice passes over our area in the last week. In the photo, the space station was about 50 degrees above the horizon. It is amazing how bright the ISS has become even at such a low angle."
A new round of flybys over North American begins in early May. Stay tuned for details.
more images: from Ralf Vandebergh of the Netherlands; from Bill Westphal of Altadena, CA; from Mike Snyder of Cedar Rapids, IA; from Don Lawrence of Sugar Land, Texas; from Robbie Merrill of Fort Collins, CO;
---
April 2008 Aurora Gallery
[Aurora Alerts] [Night-sky Cameras]