BRIGHT LIGHTS AT NIGHT: The two brightest objects in the night sky are having a get-together. Tonight, after sunset, look southeast for Jupiter and the Moon rising side-by-side in the constellation Sagittarius. They're so bright, no sky map is required to find them. (Bonus: The star near the edge of the Moon is blue Nunki.)
TRICKY SUNSET: Sometimes you just can't believe your own eyes. This is one of those times: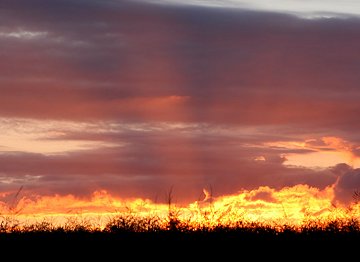 Contrary to appearances, the landscape is not on fire. "This is just a cloudy sunset over open countryside in France," says Patrice Arnaudet, who took the picture on July 13th using a Canon 350D digital camera. "There was no fire."
Blame the trickery on Rayleigh scattering. Tiny particles in the air, including air molecules themselves, scatter blue light more so than red. When the sun sets, so much blue is scattered, the remaining rays can become extremely reddened. In Arnaudet's photo, Rayleigh-scattered sunbeams are painting the clouds the color of wildfire.
"Wildfires" are only one of the sun's many tricks. Go outside at the end of the day and look west; can you believe your eyes?
SEEING KIBO: Last month, space shuttle Discovery delivered Japan's Kibo science laboratory to the International Space Station (ISS). Two spacewalks and a lot of help by the station's robotic arm were required to attach the bus-sized laboratory. Kibo is the largest of all ISS modules--large enough, in fact, to be seen in backyard telescopes on Earth.
"The newly-added Japanese Kibo lab is obvious to ground-based observers," says astrophotographer Ralf Vandebergh. "Witness these photos I took on July 13th."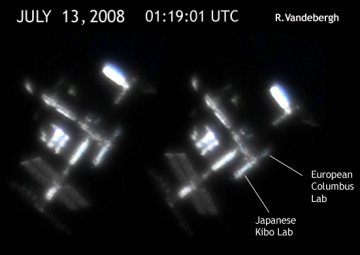 Such was the view through Vandebergh's 10-inch telescope, which he manually guided as the ISS passed over his home in the Netherlands. "I saw Kibo again the next night, July 14th, when the ISS made two passes over my observatory," he says.
The flybys continue this week over Europe and North America. Ready to see Kibo? Check the Simple Satellite Tracker to find out when to look.
MOVIE: German amateur astronomer Dirk Ewers recorded a pass of the ISS over his hometown on July 14th. The movie shows "not only Kibo, but also the Columbus laboratory and the ESA's Jules Verne cargo spacecraft now docked to the ISS," he says. Click to play.
---
2008 Noctilucent Cloud Gallery
[Strange Clouds] [Sky Cameras]