ASTEROID MOVIE: Binary asteroid 2008 BT18 flew past Earth on July 14th only 1.4 million miles away. Amateur astronomer John Drummond recorded its passage using a 16-inch telescope in Gisborne, New Zealand. "The asteroid was 14th magnitude and traveling at 1.2 degrees an hour," he says. Click here to view the movie.
NOCTILUCENT SURPRISE: Noctilucent clouds (NLCs) are supposed to be a high-latitude phenomenon, most often seen in Canada, Russia and northern Europe. So imagine the surprise of veteran astrophotographer Tunç Tezel on July 13th when he saw noctilucent tendrils peeking above the horizon of Turkey: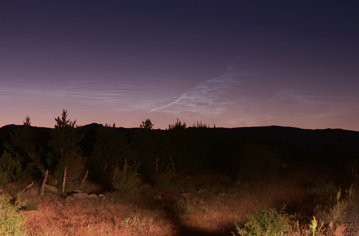 "This view of noctilucent clouds may be one of the farthest ever from the poles," says Tezel. "I went to mile-high Tasliyayla Plateau, 40 km south of Bolu for dark skies. Noctilucent clouds lit up as soon as the morning twilight started. It was amazing! For the record, my location was 40o 31' N, 31o 37' E."
This sighting highlights a mystery of noctilucent clouds: Why are they spreading south? Noctilucent clouds first appeared in the late 19th century, and in those days they were confined to latitudes above 50o N (usually far above). In recent years, however, the clouds have been spotted in Oregon, Colorado, Utah, possibly Kansas and Virginia, and now Turkey. These sightings are a call to sky watchers at all latitudes: Be alert for NLCs! Observing tips may be found in the photo gallery:
2008 Noctilucent Cloud Gallery
[Strange Clouds] [Sky Cameras]
SEEING KIBO: Last month, space shuttle Discovery delivered Japan's Kibo science laboratory to the International Space Station (ISS). Two spacewalks and a lot of help by the station's robotic arm were required to attach the bus-sized laboratory. Kibo is the largest of all ISS modules--large enough, in fact, to be seen in backyard telescopes on Earth.
"The newly-added Japanese Kibo lab is obvious to ground-based observers," says astrophotographer Ralf Vandebergh. "Witness these photos I took on July 13th."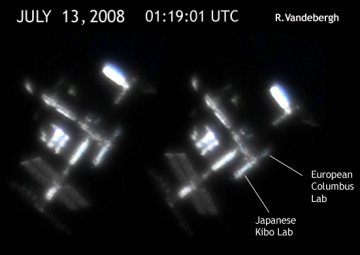 Such was the view through Vandebergh's 10-inch telescope, which he manually guided as the ISS passed over his home in the Netherlands. "I saw Kibo again the next night, July 14th, when the ISS made two passes over my observatory," he says.
The flybys continue this week over Europe and North America. Ready to see Kibo? Check the Simple Satellite Tracker to find out when to look.
---
July 2008 Aurora Gallery
[Aurora Alerts] [Night-sky Cameras]