BRIGHT LIGHTS IN THE NIGHT SKY: Jupiter, the full Moon, the International Space Station--all three, at the same time? It could happen tonight. The ISS is flying over many US and European cities while Jupiter and the Moon transit the southern sky in tandem. A meeting is possible! Check the Simple Satellite Tracker to find out when to look.
SURFER'S MOON: According to folklore, tonight's full Moon is the "Thunder Moon," named after the rumbling crash of summer storms. But what would you call this? There wasn't a cloud in the sky: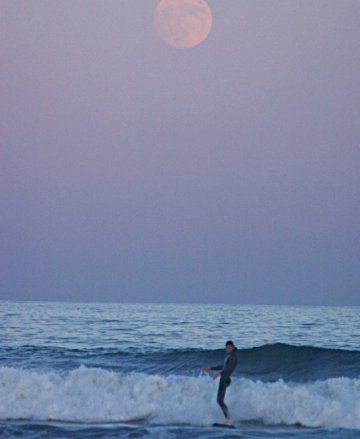 "I call it 'the Surfer's Moon,'" says John Stetson of Scarborough, Maine, who took the picture on July 16th. "That's my son Peter surfing at Higgin's Beach with a 98% illuminated Moon overhead."
The full Moon, it seems, is in the eye of the beholder. Cast yours on the sky tonight and see what kind is waiting for you: sky map.
more images: from Mohamad Soltanolkottabi of Esfahan, Iran; from Elias Chasiotis of Markopoulo, Greece; from Tom Soetaert of Lawrence, Kansas; from Mark Seibold of Portland Oregon; from Shevill Mathers of Hobart, Tasmania; from Andrew Dumont of Laconia, New Hampshire; from Rob Carew of Melbourne, Australia; from Riccardo Di Nasso of Pisa, Italy;
ORGANIC CEMETERY: Mars is dry today, but the red planet once had vast lakes, flowing rivers and other wetlands potentially capable of supporting life. That is the conclusion a new study published in today's issue of Nature magazine. The findings (supported by a second study in Nature Geosciences) are based on spectral data and high-resolution photos taken by NASA's Mars Reconnaissance Orbiter (MRO)--for example: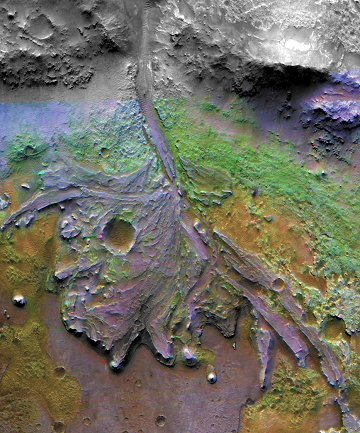 This is a color-enhanced image of Jezero Crater, which once held a lake about the size of Lake Tahoe on Earth. Ancient rivers ferried clay-like minerals called "phyllosilicates" (shown in green) into the lake, forming a delta.
"The distribution of clays inside the ancient lakebed shows that standing water must have persisted for thousands of years," says study co-author Bethany Ehlmann of Brown University. "Clays are wonderful at trapping and preserving organic matter, so if life ever existed in this region, there's a chance of its chemistry being preserved in the delta."
According to the Nature study, vast regions of Mars' ancient highlands contain clay minerals, which can form only in the presence of water. Maps of these phyllosilicates may offer a "finder chart" to future missions hunting for signs of life: full story.
---
2008 Noctilucent Cloud Gallery
[Strange Clouds] [Sky Cameras]