Where's Saturn? Is that a UFO--or the ISS? What's the name of that star? Get the answers from mySKY--a fun new astronomy helper from Meade.

COMET LINEAR VZ13: This weekend, fuzzy green comet Linear VZ13 is making its closest approach to Earth. Distance: 86 million km. Shining like an 8th magnitude star, the comet is too dim for unaided eyes, but it is an easy target for backyard telescopes of all sizes. Find it after sunset not far from the handle of the Big Dipper: sky map. [3D orbit] [ephemeris]

AURORA AUSTRALIS: Last night, a solar wind stream hit Earth and sparked bright green auroras over Antarctica. "We waited almost a month for some auroral activity--and finally!" says Chantal Steyn who sends this picture from Dronning Maudland (Queen Maud Land):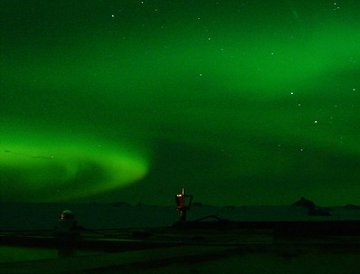 Photo details: Sony DSC-P93, 400 ISO, 30s exposure
Steyn is a member of the South African National Antarctic Expedition, currently "wintering over" at a nunatak named Vesleskarvet. "The temperature was -38o Celsius when I took these pictures," she says.
At its peak, the disturbance that produced these lights registered 6 on the 0-to-9 K-index scale of geomagnetic storms. The storm is subsiding now, and the chances for more auroras tonight are low.
SUNSPOT SUNSET: "Look under the crane," says astronomer Domenico Licchelli of the Osservatorio del Fiorini in Lecce, Italy. The dark smudge is sunspot 963: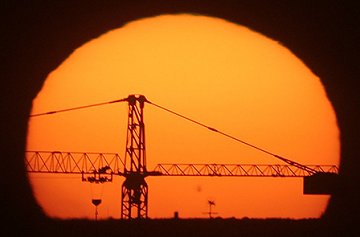 Photo details: Apo Pentax 75 SDHF, Astrosolar filter, Canon 350D, 1sec, 100 ASA
He took the picture yesterday evening using a 3-inch telescope, a Canon 350D digital camera and a Baader Astrosolar filter. The sunspot is about as wide as the planet Neptune, which makes it an easy target for solar telescopes. When the sun is high in the sky and not so blurred by atmospheric turbulence, the 'spot is a real beauty. See below.
more images: from Eric Roel of Valle de Bravo, México; from Pavol Rapavy of Rimavska Sobota, Slovakia; from Franck Charlier of Marines, Val d'Oise - France; from Rogerio Marcon of Campinas, Brazil; from Gianluca Valentini of Rimini, Italy;
---