| | | |
| --- | --- | --- |
| Where's Saturn? Is that a UFO--or the ISS? What's the name of that star? Get the answers from mySKY--a fun new astronomy helper from Meade. | | |
LOOKING FOR SATURN? It's right beside the Moon. Go outside tonight afer sunset and look around. The Moon is so big and bright, you won't even need a sky map to find it. See the golden "star" beside the Moon? That's Saturn. If you have a telescope, point it at Saturn and behold the planet's rings ... before they disappear.
SOLAR ACTIVITY: At its best and biggest a few days ago, tiny sunspot 990 was never much more than a speck on the surface of the sun, and now that speck is fading away. But regard this April 15th photo from Greg Piepol of Rockville, Maryland: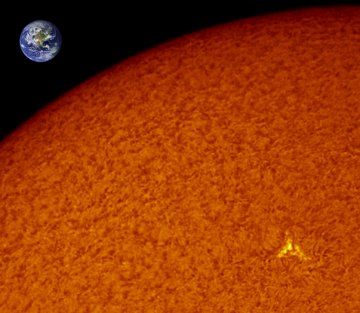 The decaying sunspot is the bright "splash" in the lower right. Piepol inserted an image of Earth for scale. It shows that on the mighty sun even measly decaying specks can be as big as planets. Everything is relative!
Sunspot 990 is only the second sunspot of new Solar Cycle 24. In the months ahead, new cycle spots will appear in greater size and number as solar activity emerges from its current low ebb and ascends toward the next Solar Maximum in 2011-2012; then the show will really begin. Stay tuned for solar activity.
LUNAR X: It's such a familiar sight, we often forget there's an alien world in our own backyard: the Moon. It's there tonight, almost full. Scan the Moon with an ordinary pair of binoculars or a small telescope and you will observe a fantastic landscape of lava seas, ancient craters, deep valleys and towering mountains.
And don't forget the Lunar X: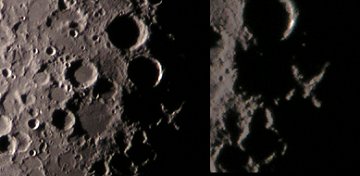 Amateur astronomer Dennis Fell of Wetaskiwin, Alberta, took this picture on April 12th. "It was an excellent night for binocular viewing," he says. "The 'X' was very pronounced."
Once a month when the sun rises over Crater Werner in the Moon's southern hemisphere, sunlight floods the region's high terrain and makes an X. The effect lasts only about two hours so careful timing and a little luck is required to catch it. "Observing the 'X' has little or no scientific value. It is a trick of the light. But the effect is striking, and it is exciting to rediscover each month," writes David Chapman in "A Fleeting Vision near Crater Werner" (Journal of the Royal Astronomical Society of Canada, Vol. 101, Issue 2, p.51).
The next viewing opportunity occurs May 12, 2008, around 1530 UT. Mark your calendar with an X.
more X-images: from Jeff Barton of Comanche Springs Astronomy Campus, Three Rivers Foundation for the Arts & Sciences, near Crowell, Texas; from Enrique Luque Cervigón of Alcalá de Henares, Madrid, Spain;
---
April 2008 Aurora Gallery
[Aurora Alerts] [Night-sky Cameras]